Taylor Swift at Soldier Field: What to know for Chicago's shows
CHICAGO - Chicago is anticipating one of its busiest weekends of the year as "Swifies" flock to the city for a three-day frenzy of sold-out shows. 
Taylor Swift will play to a packed stadium at Soldier Field Friday, Saturday and Sunday this weekend. 
Soldier Field issued an advisory to fans Thursday and detailed what concert goers should expect before, during and after the shows.
Times
The shows begin at 6:30 p.m. June 2-4. The doors open at 4:30 p.m. and the parking lots opens at 2 p.m. 
SUBSCRIBE TO FOX 32 ON YOUTUBE
Parking
All parking on the Soldier Field campus is sold-out. Additional parking will be available on a first come, first serve basis at the McCormick Place Parking Lots accessible from 31st Street.
Fans without tickets to the shows are "strongly discouraged" from gathering outside the stadium this weekend, Soldier Field said in a statement Thursday.
The area will already be at maximum capacity for the sold-out shows. 
Shuttles will also be operating from the Millennium Park garages to Soldier Field.
There are several other events happening this weekend across the city. Fans should arrive early as traffic is expected to be heavy. 
The Soldier Field website says to take public transit when possible. The CTA added additional #146 buses and Red Line train service to and from Soldier Field for the weekend.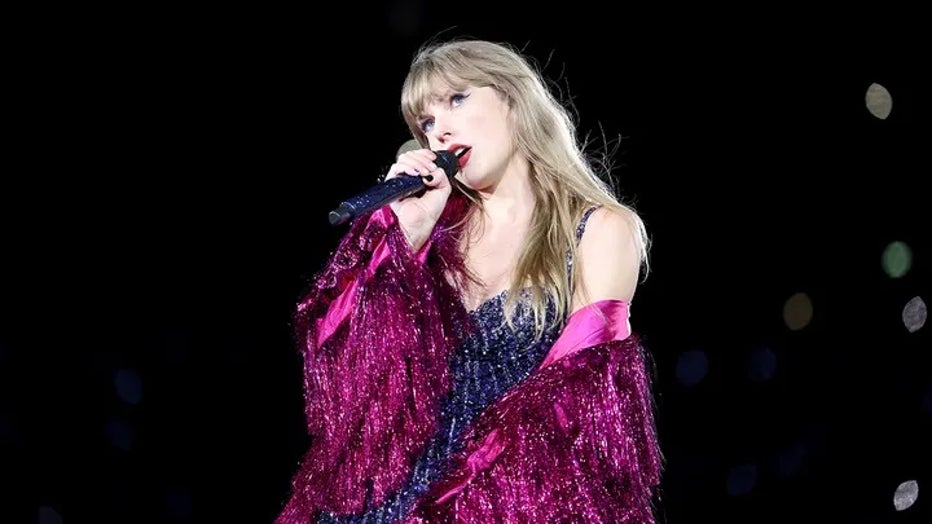 Taylor Swift performing at Gillette Stadium on Friday. (Scott Eisen/TAS23/Getty Images for TAS Rights Management / Getty Images)
Rideshare & Pickup
Fans who plan to be picked up after the concert by rideshare or friends and family must use the designated post-concert pickup area. This will be located between Roosevelt Road and Balbo Drive 
Vehicles will be able to access the area on Columbus Drive at Balbo beginning at 10:30 p.m., no earlier. Family and friends picking up must stay with their vehicle while in the designated area. There will be security staff available after the shows to guide fans to the rideshare and parent pickup area.
Bag Policy
Like all events at Soldier Field, the NFL All-Clear Bag Policy will be in place. 
The policy allows the following bags:
Bags that are clear plastic and are no bigger than 12 in. x 6 in. x 12 in.
One-gallon clear plastic freezer bags (Ziploc bag or similar)
Small clutch bags, no larger than 4.5 in. x 6.5 in., with or without a handle or strap can be taken into the stadium with one of the clear plastic bags listed above
Medical Bags or kits are acceptable and will be searched at the gate.
Prohibited Items
No animals (except for certified service animals), bikes, coolers, umbrellas, strollers, noise-making devices, large bags/purses (except for what is outlined in the bag policy) or masks (except for medical or religious face coverings) are permitted inside the venue. 
Weapons and dangerous material or objects are not allowed inside Soldier Field. 
Concert goers cannot being any food, beverages, or illicit substances to the shows. 
Check the Soldier Field website for a complete list of prohibited items.
Merchandise 
Fans can buy merchandise ahead of the concerts to avoid long lines. Early merchandise is available at the Stadium Green, outside Gates 3 and 4, and along the sidewalk north of the Waldron Deck. Merchandise locations are cashless.
The locations are open on Thursday, June 1 from 10 a.m. to 7 p.m. 
On Friday through Sunday, the early merchandise will be sold from 12 p.m. through the show. 
Cooling Stations
Cooling stations will be located:
The Miller Lite Midway (behind section 136/138)
The United Club (behind section 106/107 & 111/112)
Outside in the Stadium Green
Inside the Northwest Plaza (behind section 143/144)