Tropical Storm Jose upgrades to hurricane; potential tropical storm watches in US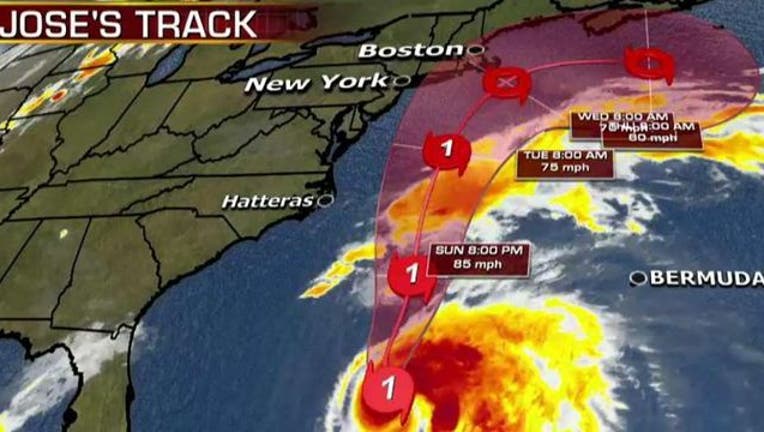 article
(FoxNews.com) - Tropical Storm Jose was upgraded to a Category 1 hurricane Friday and the storm could bring tropical storm watches to the U.S. east coast later Saturday.
The hurricane was located far from land but is generating powerful swells that were affecting coastal areas in Bermuda, the Bahamas, Puerto Rico, Hispaniola, and the southeast U.S., the National Hurricane Center said. The center said the swells could cause "dangerous surf and rip current conditions."
The center added that tropical storm watches were possible for the U.S. east coast later Saturday and advised people from North Carolina to New England to monitor Jose's progress. Some areas of the east coast may need to enforce tropical storm watches during Saturday into Sunday.
The hurricane was forecast to pass east of the North Carolina coast Monday and stay offshore from Virginia to New England.
As of 11 a.m. ET, the hurricane currently had maximum sustained winds of 80 mph and was located about 480 miles south-southeast of Cape Hatteras, NC, and was moving northwest at 9 mph.
The hurricane was a powerful Category 4 storm last week.
Meanwhile, a tropical storm warning was in effect Saturday for Mexico's Baja California Peninsula due to Hurricane Norma, which is forecast to pass nearby in the coming days.
Norma was expected to resume motion toward the north and approach waters west of the peninsula late Sunday or early Monday.
As of 9 a.m. MDT, the Category 1 hurricane had maximum sustained winds of 75 mph and was located 260 miles south of Cabo San Lucas.
The center also said that a depression had developed into Tropical Storm Lee. The storm had maximum sustained winds of 40 mph and was about 655 miles west of the Cabo Verde Islands. Little change in the strength is forecast over the next couple of days.
More on FoxNews.com.
The Associated Press contributed to this report.