Two men charged with Lisle home invasion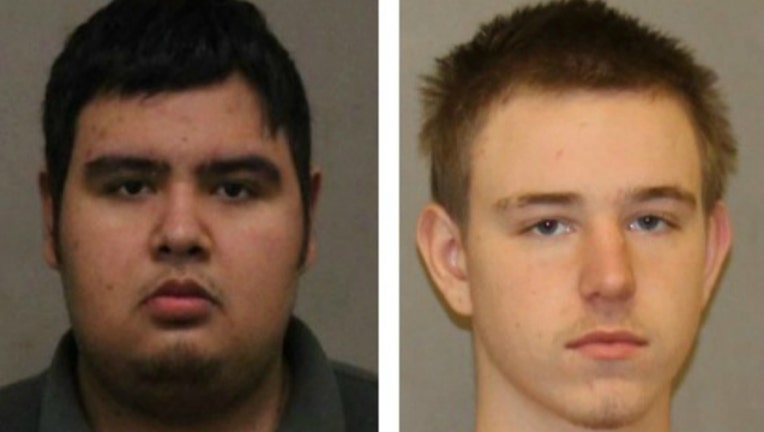 article
(SUN TIMES MEDIA WIRE) - Two men have been charged with a home invasion last week in west suburban Lisle.
About 3:30 p.m. Thursday, the victim's former roommate, 18-year-old William G. Smith, and another man knocked on the door of the victim's home in the 4900 block of Keller Street and demanded money, according to Lisle police.
When the man did not let them in, they forced their way in, police said. During the struggle, Smith pulled a knife and cut the victim's forearm.
Once inside the apartment, Smith searched for money while the other man, 22-year-old Josue A. Calleros, held the victim at knifepoint, police said. The victim told them he didn't have any money, but might be able to get some from his workplace.
Smith rode in the victim's car while still holding him at knifepoint, and Calleros followed in his own vehicle, police said.
They arrived at the restaurant where the victim works, and Smith went inside with him to get money, police said. The victim was able to alert a co-worker that he was being held at knifepoint, and the restaurant manager told Smith to leave.
After leaving the restaurant, surveillance cameras caught Smith puncturing the victim's vehicle's tires before getting in the other vehicle with Calleros and driving away, police said.
Smith, of Glen Ellyn, was arrested about 12:30 p.m. Monday in Lombard, police said. He faces felony counts of home invasion, aggravated unlawful restraint, and aggravated battery; and a misdemeanor count of criminal damage to property, police said.
Calleros, of Lisle, was arrested at 4 p.m. Friday, police said. He was charged with home invasion and aggravated unlawful restraint, both felonies.
Both Smith and Calleros are being held at the DuPage County Jail.