Backes gets OT winner, Blues beat Blackhawks 1-0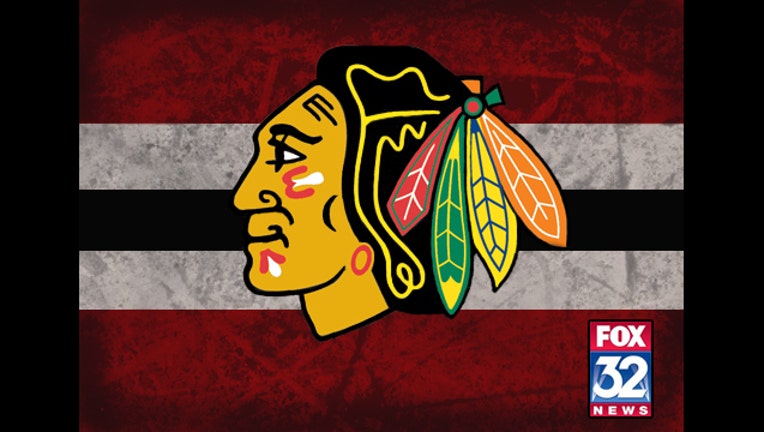 article
ST. LOUIS (AP) - Brian Elliott thwarted the Chicago Blackhawks at every turn.
The St. Louis Blues goalie was every bit as good as he was in the regular season, earning his first career playoff shutout in a 1-0 overtime victory over the defending Stanley Cup champions on Wednesday night.
He made 35 saves and didn't look at all like a player getting just his second playoff start in three years.
"You just try to get your emotions in check and try not to get too revved up, calm yourself down a little bit when needed," Elliott said.
"At this time of the year it's just about that next game. You're not looking at the past or the future."
David Backes scored at 9:04 of overtime trying to go across the ice to Alexander Steen, and the pass deflected off a Chicago Blackhawks defenseman in front of the net.
It was Backes' sixth career playoff goal and the first in overtime.
"I said out there, that's an ugly goal and I specialize in those," the Blues' captain said. "Rightfully so. First shot of the game for me, too."
Backes' shot got past Corey Crawford after bouncing off Trevor Van Riemsdyk's skate. Defensemen Jay Bouwmeester and Alex Pietrangelo assisted on the winner.
"I kind of felt it hit the inside of my pad and from there I was just hoping that it died," Crawford said. "It was a tough bounce, but we've got to feel good about how we played."
Elliott led the NHL with a .930 save percentage and was up to the task against a lineup led by scoring champion Patrick Kane and Jonathan Toews.
Elliott shared a playoff shutout in 2012 after relieving the injured Jaroslav Halak in Game 2 of the first round against San Jose.
Elliott came into the playoffs sharp after going 11-1 in his final 14 starts with three consecutive shutouts.
"We had a number of chances, especially on the power play," Toews said. "I think all four lines can generate a little bit more around the net."
The Blues had 10 shutouts during the regular season, seven of them on the road. Jake Allen had six of the shutouts.
Coach Ken Hitchcock thought there were enough chances for a 6-5 game, and thought the game-winner would be more impressive, too.
"I thought it would be a 2-on-1, top shelf," Hitchcock said. "I wasn't thinking fluky goal, but we'll take it. We'll take every win we can."
St. Louis cruised into the postseason with the third-best record in the NHL, winning eight of its last 10 games.
The Blues opened their previous series in 2014 against the Blackhawks with a pair of overtime victories, with Alexander Steen getting the winner in triple overtime in the opener. But Chicago won the last four, two in overtime.
The Blackhawks were 4-1 in overtime last season in the playoffs, including a double-overtime win at Nashville in Game 1 of their opening series.
"That's the type of goal that gets scored in overtime," Chicago defenseman Niklas Hjalmarsson said. "But they deserved it too, and we've got to find a way to score.'"
This was the Blues' first 1-0 playoff game since losing May 4, 2013, in Game 3 of the first round at Los Angeles, and their first 1-0 overtime playoff game since April 8, 2004, a loss in Game 1 of the first round at San Jose.
The Blues were at full strength for the first time all season after Backes and Allen were cleared from lower-body injuries.
Elliott had the best save in the first two periods, stopping Toews on a breakaway near the midway point. Defenseman Kevin Shattenkirk trailed the play but didn't give up.
"He just pressured him to just not really be able to make a move," Ellioitt said. "So I just tried to stand my ground."
Blues penalty killers were busy in the scoreless first period, surviving three minors in a span of 3:32 and 36 seconds of a two-man advantage. The Blackhawks had an 11-4 advantage in shots, but St. Louis had several good chances that missed the net.
Blackhawks defenseman Duncan Keith served the final game of a six-game suspension for high-sticking.
"We're happy to have him back," coach Joel Quenneville said. "He gives us some speed, he gives us a lot of different looks and a lot of other options."
NOTES: The Blackhawks and Blues have played four straight overtime playoff games in St. Louis. ... The Blues are 32-29 in playoff overtime games, including 24-12 at home. The Blackhawks are 54-43-2 and 24-25-1 on the road. ... Blackhawks F Andrew Ladd, who had returned to Chicago to be with his pregnant wife, made it back in time to play. ... Blues F Jaden Schwartz had some teeth knocked out by an errant teammates' stick on the shift before Backes' winner.