Blackhawks' Connor Murphy focusing on 'big message' for Pride Night, despite lack of jerseys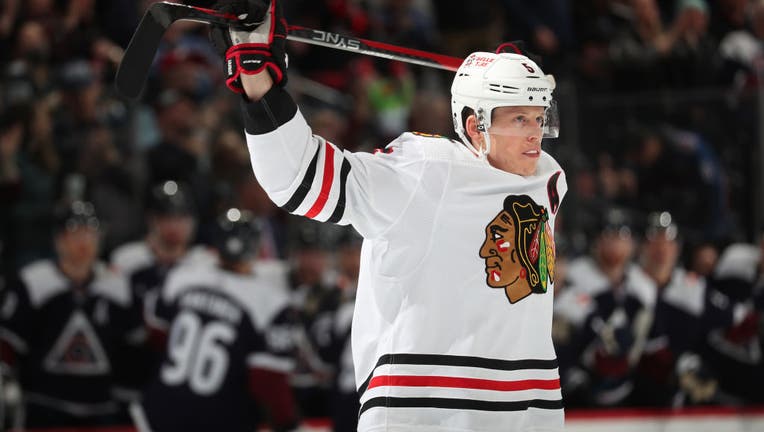 article
CHICAGO - A jersey "is a jersey," but the meaning of Pride Night stretches far beyond that, Blackhawks defenseman Connor Murphy said Thursday.
Reacting to the Hawks scrapping plans to wear their usual rainbow-colored Pride jerseys for warmups on Pride Night on Sunday, Murphy stressed that the disappointment over that decision shouldn't overshadow the good that comes from the overall event.
"I can understand [why people are upset] when things are announced one way and then changed," Murphy said. "But I hope that people understand we all support them.
"Whether it's someone in the gay community or someone in any other community…we hope that everyone feels welcome in our arenas and watching us and even a part of the game and wanting to play. That's the big message we hope can stay true."
Murphy, the Hawks' longest-tenured player in Jonathan Toews' absence, told The Athletic on March 8 he was looking forward to wearing the Pride jerseys and expected all of his teammates to also do so, as has been the case in previous years.
But sources close to the Hawks told the Sun-Times on Wednesday that the organization decided not to wear the jerseys this year over safety concerns for players with families in Russia, where a new law has banned supporting LGBTQ relationships.
That decision came from the front office rather than the players, sources said, and coach Luke Richardson confirmed Thursday that the "organization made the decision before it got to" the three Hawks players with Russian heritage.
"We're right there along with [those who are upset]," Richardson said, "because we have done this in the past and planned to do it again this year in support of it. The organization, because they had to make a decision and it's a tough one, are just as disappointed as anybody. It's an unfortunate situation, but that's just what we have to deal with."
SUBSCRIBE TO FOX 32 ON YOUTUBE
Defenseman Seth Jones, who has been filling the de facto captain duties in Toews' absence, also commented Thursday on the topic.
"The jerseys aren't the whole thing," Jones said. "We still have a lot going on during that night. I know there's a lot of foundations and a lot of organizations still coming to the game, and [they] were OK with us not wearing the jerseys. We ran it by all of them, I heard. So we still support that cause. That hasn't changed."
Murphy echoed that sentiment.
"Our organization does a lot of great jobs throughout the year supporting a lot of causes in our community," Murphy said. "They have the right heart in wanting to support every group and keep making hockey an inclusive sport. That's important for kids to feel and understand. I still have faith in that and our sport and organization and team. Everything will come out positive."
Despite the team not wearing special jerseys, Sunday's game against the Canucks will still feature performances before the game and during the intermissions by a number of LGBTQ groups, including the Chicago Gay Men's Chorus and the Chicago Gay Hockey Association.