Bryant has best-selling baseball jersey; Rizzo 8th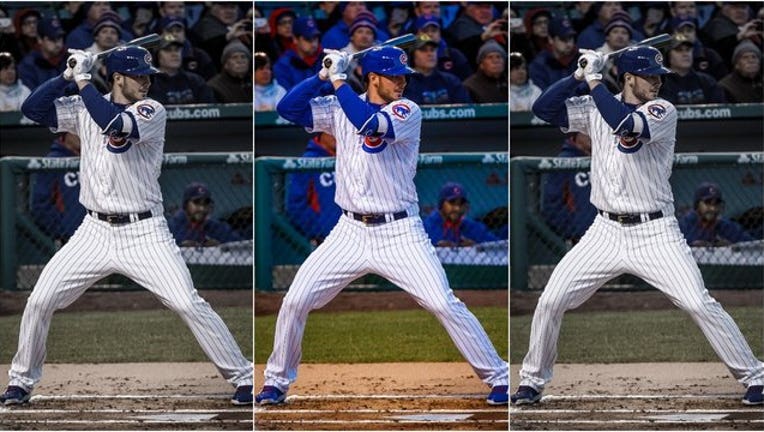 article
CHICAGO (AP) — Kris Bryant hasn't played a single game in the postseason but already he's a winner.
In a news release, Major League Baseball says that more Majestic jerseys bearing the Chicago Cubs star rookie's name have been sold from the league's online shop than any other player.
Major League Baseball says the 23-year-old is the youngest player and the first rookie to ever top the list in the five years the rankings have been released.
Bryant his debut April 17 and hit .275 with 26 homers and 99 RBIs for the Cubs, who play at Pittsbugh on Wednesday night in the NL wild-card game.
The Cubs and the Giants are the only teams with more than two players on the list.
San Francisco Giants ace Madison Bumgarner was second on the list announced Monday, followed by Giants catcher Buster Posey, Los Angeles Dodgers pitcher Clayton Kershaw and Los Angeles Angels outfielder Mike Trout.
Washington outfielder Bryce Harper was sixth, followed by Giants outfielder Hunter Pence, Cubs first baseman Anthony Rizzo, New York Mets pitcher Matt Harvey and Pittsburgh outfielder Andrew McCutchen.
Figures are based on sales since opening day.
Yankees shortstop Derek Jeter topped the list last year in his final season before retiring.
Here are the Top 20 best selling MLB jerseys:
Kris Bryant, Chicago Cubs
Madison Bumgarner, San Francisco Giants
Buster Posey, San Francisco Giants
Clayton Kershaw, Los Angeles Dodgers
Mike Trout, Los Angeles Angels
Bryce Harper, Washington Nationals
Hunter Pence, San Francisco Giants
Anthony Rizzo, Chicago Cubs
Matt Harvey, New York Mets
Andrew McCutchen, Pittsburgh Pirates
David Wright, New York Mets
Josh Donaldson, Toronto Blue Jays
Todd Frazier, Cincinnati Reds
David Ortiz, Boston Red Sox
Yadier Molina, St. Louis Cardinals
Carlos Correa, Houston Astros
Jacob deGrom, New York Mets
Dustin Pedroia, Boston Red Sox
Felix Hernandez, Seattle Mariners
Albert Pujols, Los Angeles Angels