Cubs ace Arrieta not surprised by Strasburg deal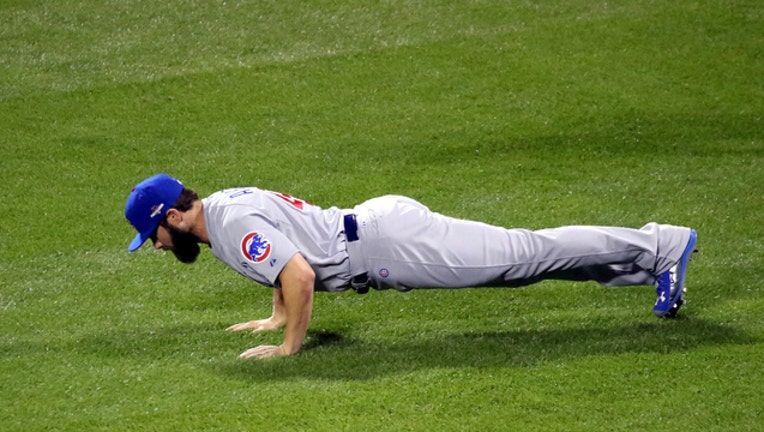 article
CHICAGO (AP) - Cubs ace Jake Arrieta saw the numbers for Stephen Strasburg's new contract with Washington. He wasn't surprised at all.
Arrieta is one of several players potentially affected by Strasburg's $175 million, seven-year deal with the Nationals, preventing the right-hander from testing free agency after this season. Arrieta avoided arbitration with a $10.7 million, one-year deal with Chicago in February and isn't eligible for free agency until 2018, but he is taking stock of the landscape around the game.
"I feel like every year it goes up slightly," Arrieta said before Wednesday's doubleheader against San Diego. "This year's free-agent class for pitchers is pretty thin and even thinner now that Strasburg signed early.
"That's why starting pitching is so valuable. There's not many guys that can pitch at the top of a rotation floating around the league."
Arrieta is coming off a breakout season, helping the Cubs get to the NL Championship Series. The 30-year-old right-hander went 22-6 with a 1.77 ERA last year.
Strasburg, the No. 1 overall pick in the 2009 draft, was 11-7 with a 3.46 ERA in 23 starts for the Nationals in 2015. His new contract, announced on Tuesday, includes opt outs after the 2019 or 2020 seasons, and $70 million in deferred money.
Strasburg was an All-Star in 2012, but his season was cut short by the team out of concern for his surgically repaired elbow.
"As far as the numbers go, I don't think it surprises many guys," Arrieta said. "It's obviously a really big contract for a guy who's had Tommy John but that's the price for starting pitching, especially really good starting pitching."
Asked about Strasburg's deal as it relates to the Cubs, president of baseball operations Theo Epstein said it doesn't impact them too much.
"Obviously it will impact markets and we have to operate in markets," Epstein said before Tuesday night's 8-7 victory over the Padres. "But it is what it is."
Arrieta and Strasburg are represented by Scott Boras, who has a reputation for taking his players to free agency. But Arrieta said that is a misconception.
"I think for a lot of guys it makes sense to do that and a lot of Scott's clients have gone to free agency and it worked out for them," Arrieta said.
Arrieta is 6-0 with a 1.13 ERA so far this year. The Cubs have won his last 20 starts heading into Saturday's turn against Pittsburgh.
A fifth-round pick in the 2007 draft out of TCU, Arrieta has flourished since he was acquired by Chicago in a July 2013 trade with Baltimore. He is 42-13 with a 2.15 ERA in 74 starts with the Cubs.
"You want to be paid in respect to how your peers are paid. I don't think that changes with any guy you ask," he said. "Guys want to be compensated fairly.
"I've made it clear that I like Chicago. If I had it my way, I'd stay here, but that's just one side of the story. We'll see."