Cubs close in on playoffs and fans loving every moment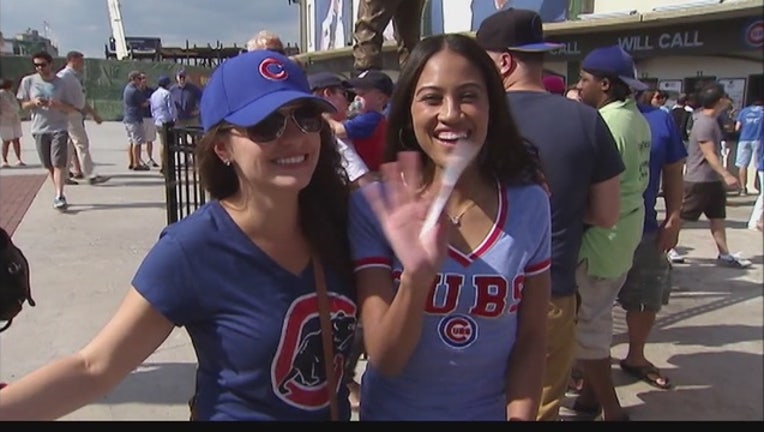 article
CHICAGO (AP) — As much as he is enjoying this, Greg Simon can't quite escape the thought that it might unravel in some cruel, freakish way.
He is, after all, a lifelong fan of the Chicago Cubs.
"It's always in a small corner of your mind," the 29-year old Simon said as he leaned against a wall near a concession stand at Wrigley Field, beer in hand. No sooner had those words left his mouth than Kris Bryant launched a two-run drive to left field that set a Cubs rookie record for home runs.
It was another well-timed shot in a season full of them for the most woebegone team in Major League Baseball.
After five consecutive losing seasons, the Cubs were nearing a playoff berth for the first time since they repeated as National League Central champions in 2008. And there's a real sense that this is the start of something big, not a short window of contention, as they try to bring home their first World Series championship since 1908 — a 107-year string of futility full of near misses, anguish and pitiful play that is the stuff of legend.
The Cubs are stocked with young players after a top-to-bottom overhaul orchestrated by Theo Epstein, who helped end one championship curse as general manager in Boston. Homegrown players such as Bryant and Kyle Schwarber are making their marks and more promising prospects are in the system.
Manager Joe Maddon and free agent prize Jon Lester arrived in the offseason. Jake Arrieta developed into a 20-game winner and among the favorites for the Cy Young award.
"This team is going to be special for the next couple of years, and for guys like me that are 52 and have been a Cub fan for since I remember anything, it's been a lot of pain," said Joe Dosen of Crown Point, Indiana, who took in a game this week with his daughter Claire. "It's actually nice now to see that they're doing something, and hopefully in my lifetime I may get to see a World Series game — with the Cubs in it."
As for the Billy goat?
The black cat?
Bartman?
Fans don't want to hear about those indelible and infamous parts of the Cubs' past.
"Bite your tongue," said Karen Wind, who was in town from Phoenix. She is a Dodgers fan, but her son grew up watching Cubs games on WGN as a youngster living in Canada and stuck with them through the years.
Now 28, Aaron Wind was visiting Wrigley for the first time. He worried about a letdown in a win-or-go-home wild-card game, particularly if it's on the road.
Then again, the Cubs have Hollywood — if not history — on their side.
"This is the year 'Back to the Future' predicted so I think it's set up for us," Aaron Wind said. "Everything's coming along nicely."
There's a scene in "Back to the Future, Part II" where Michael J. Fox's character, Marty McFly, fast forwards to Oct. 21, 2015, and is stunned to see a hologram telling him the Cubs had just swept Miami to win the World Series.
"Wait a minute, Cubs win World Series. Against Miami?" he says.
The movie, which had Chicago as a 100-to-1 shot, came out in 1989. Miami did not field a team until 1993, and while the Marlins fell out of contention long ago, they at least have two championships.
The Cubs last won the National League pennant in 1945 and are eyeing just their seventh trip to the postseason since then.
But they have made great strides this season and the friendly confines of Wrigley haven't been this friendly in a long time, with September games that actually matter to the home team.
Marcia Wilson and her husband, Pat, from Pershing, Wisconsin, were celebrating their 28th anniversary with field-level seats behind the foul screen. She was carrying a sign saying, "I am from Wisconsin and am a Life-time Cubs Fan!!!"
"Everything is about timing, and this is it," Wilson declared.
Time, of course, has not been kind to the Cubs. They were five outs from beating the Marlins for the pennant in 2003 when a leaping Moises Alou reached to catch a foul ball down the left field line. A fan named Steve Bartman reached, too, and, well, you know what happened.
The past five years were particularly tough, with attendance dropping from 3,062,973 in 2010 to 2,652,113 in 2014. But it's on the rise this year with a rising team that seems poised to contend for years.
That's a big difference between this group and the one that captured back-to-back division championships in 2007-08. The Cubs, with a high-priced, veteran roster back then, got swept out of the playoffs by Arizona and then by the Los Angeles Dodgers.
The window then slammed shut in a hurry, with little in the farm system. These days, there is a different feeling.