Hendricks pitches 5-hitter, Cubs beat Phillies 4-1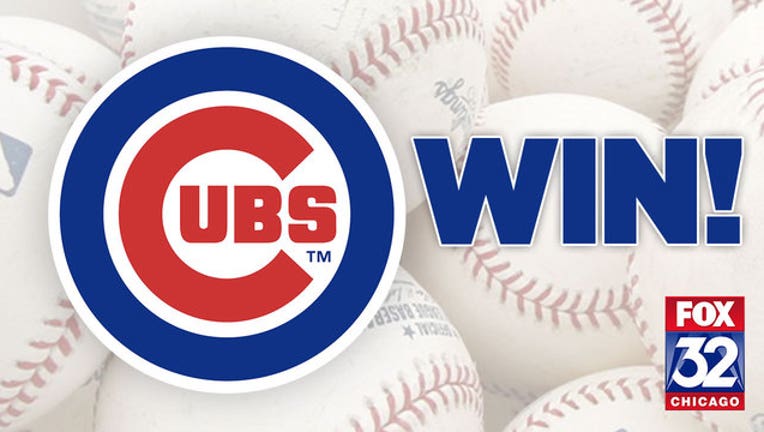 article
CHICAGO (AP) - The roar from the crowd as he walked toward the mound for the ninth inning was one of the highlights for Kyle Hendricks.
The right-hander stayed focused even after the shutout disappeared.
Hendricks pitched a five-hitter for his second career complete game, Dexter Fowler hit a leadoff homer and the Chicago Cubs beat the Philadelphia Phillies 4-1 on Saturday.
Hendricks (3-4) struck out seven and walked none. He was greeted with another round of cheers before the start of the ninth, but fell just short of his second career shutout.
"That was probably the coolest part just standing there for the ninth," he said. "But again, I had to tell myself that much more just keep it simple, stay within myself and just make pitches."
Fowler sparked a two-run first against Jerad Eickhoff (2-7) with his sixth home run.
Jason Heyward had two doubles for Chicago, which has won four in a row. Ben Zobrist had two hits, including an RBI double, to extend his streak to 14 games.
The Phillies lost for the sixth time in eight games.
"I don't want to take anything away from Hendricks because he is a damn good pitcher and I like him a lot," manager Pete Mackanin said. "But I feel like we took pitches we should've hit and we swung at pitches we shouldn't have swung at."
Philadelphia had just four hits before a miscommunication between right fielder Heyward and second baseman Zobrist allowed Freddy Galvis' fly to drop between them for a leadoff double in the ninth. Heyward said he was yelling for Zobrist to go for the ball. But Zobrist pulled up.
"He was thinking I said something so I wanted the ball," Heyward said. "We talked about it after. He said, 'Man, I heard you saying something. But I didn't know what it was. Usually, I can hear what you're saying. But right there it was so loud.'"
Galvis scored from third when Ryan Howard struck out swinging on a pitch in the dirt. The Cubs had a shift on with the lefty at the plate, allowing the runner to take a huge lead.
Catcher Miguel Montero looked him back, but Galvis took off for home as he threw to first on the strikeout, spoiling the shutout and drawing boos from the crowd. Hendricks then retired Cameron Rupp on a groundout.
Dominant in a rare win over struggling Atlanta in his previous start, Eickhoff came up short against the team with the best record in the majors. The right-hander went six innings, allowing four runs and eight hits while striking out seven and walking one.
The Cubs, tops in the majors in run differential, wasted no time grabbing the lead.
Fowler drove his second leadoff homer this season and the 16th of his career just over the wall in left-center. Heyward followed with a double and scored on a two-out double by Zobrist, who came in on a 22-for-50 tear.
Heyward added an RBI double in the third to make it 3-0. Hendricks got thrown out trying to score from first on the play to end the inning, but the way he was pitching, it didn't matter.
"What you're seeing right now is not a reach to me," manager Joe Maddon said. "This is what he can look like consistently. I think he has for the most part this year."
A BEAR AT CUBS GAME
Chicago Bears receiver Alshon Jeffery got to spend some time with coach John Fox.
They attended the game together, with Jeffery throwing out the first pitching and singing "Take Me Out To The Ballgame" during the seventh-inning stretch.
The star receiver skipped organized team activities this week. He is trying to work out a multiyear contract with the Bears after signing his one-year, $14.6 million franchise tender. They have a July 15 deadline.
TRAINER'S ROOM
Phillies: Galvis came up limping in the sixth inning after Hendricks hit him in the right leg with a pitch. He walked gingerly to first and stayed in the game after being tended to by a trainer.
UP NEXT
RHP John Lackey (4-2, 3.38 ERA) goes for his first win in more than three weeks for Chicago while RHP Vince Velasquez (5-1, 2.75 ERA) tries to shake off his shortest outing of the season for Philadelphia. Lackey is 0-1 in his past three outings, although he has lowered his ERA from 4.02 to 3.38. Velasquez lasted four innings against Detroit on Monday, allowing three runs and nine hits.