Manfred: No timetable on finishing Russell investigation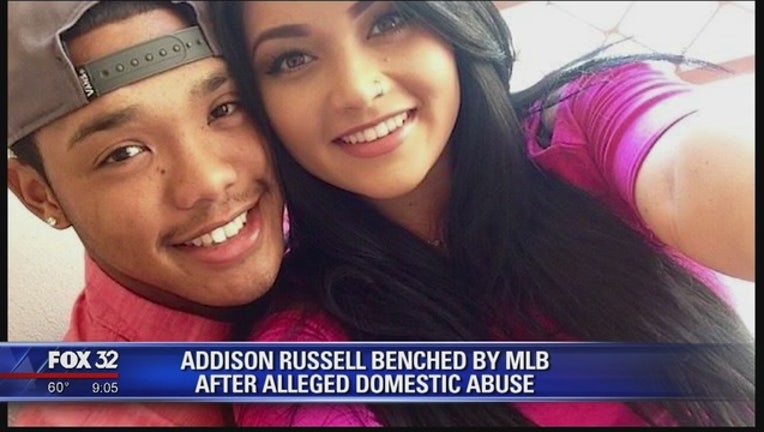 article
CHICAGO (AP) - Major League Baseball has no timetable for finishing its investigation of domestic violence allegations against Chicago Cubs shortstop Addison Russell by his ex-wife, Commissioner Rob Manfred said Tuesday night.
"Right now, we're kind of going day by day," Manfred said. "That's the best I can do for you. The most important thing is to take our time, make sure we have all the facts, and make sure we try to make a decision at a point in time that it doesn't affect roster decisions and things like that."
Manfred said it's "conceivable" a decision is announced before the end of the playoffs, though he would not say if it's likely. He spoke prior to the wild-card game between Chicago and Colorado.
Russell has denied the accusations. He was placed on administrative leave Sept. 21 after his ex-wife, Melisa Reidy, re-iterated claims of domestic abuse. He was not on the wild-card roster.
MLB has said it began an investigation last year after allegations first became public.
Reidy posted a photo on her Instagram account with a caption suggesting her husband of about 18 months had been unfaithful to her. In another post, a user - described by Reidy as a close friend -claimed Russell had "hit" his wife. The post was later deleted. Reidy declined to talk to MLB at the time because she decided it was not in her family's best interests, her attorney, Thomas Field, said last year.
In September, a blog post attributed to Reidy described more detailed allegations, including years of physical and emotional abuse. Less than 12 hours later, MLB announced Russell had been put on leave under MLB's domestic violence policy.
Chicago acquired Russell in a July 2014 trade with Oakland. He helped the Cubs win the World Series two years ago, batting .238 with 21 homers and 95 RBIs in 151 games.
Russell hit .250 with five homers and 38 RBIs in 130 games this season.
___
More AP baseball coverage: https://apnews.com/tag/MLB and https://twitter.com/AP_Sports