No 'Pouty Pants,' Cubs' Schwarber surges into playoffs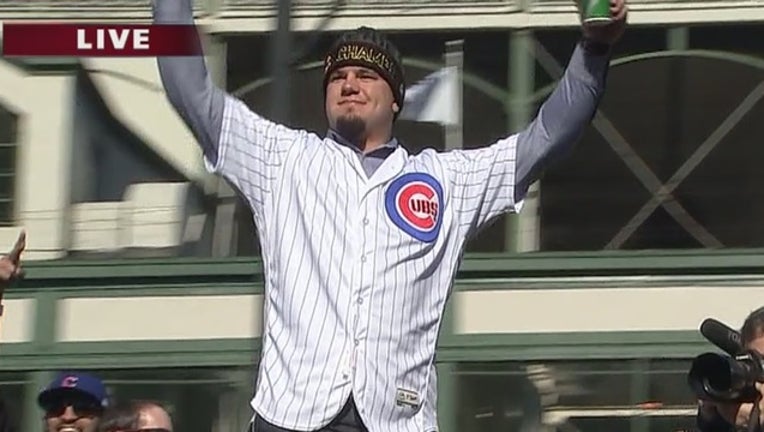 article
CHICAGO (AP) - Even at his worst moments this season, Kyle Schwarber did his best to stay upbeat for the Chicago Cubs.
He didn't want to be the guy who sulked, who hung his head, even when he got sent to the minors.
"I could either be Mr. Pouty Pants, or I could go out there and do something about it," he said. "I wanted to do something about it. That's why I never hung my head."
Schwarber has been doing quite a bit lately, once again knocking home runs, and sending signals that another big postseason might be in store for him.
He comes surging into the playoffs after struggling for most of the year and could be a major factor with the Cubs eyeing another big run following last year's World Series victory. It starts with the NL Division Series against the Washington Nationals.
"I still call him the legend," Ben Zobrist said. "I mean, he's a legend. And he knows it."
Schwarber has supplied some of the most memorable playoff moments for the Cubs the past two years.
Who can forget his drives to the Allegheny River and the top of the right-field scoreboard at Wrigley Field against Pittsburgh and St. Louis in 2015? He set a club postseason record with five homers that year, just a few months removed from his major league debut.
His performance in last year's playoffs was every bit as epic, considering he suffered what was supposed to be a season-ending knee injury in early April. Schwarber tore two ligaments in his left knee in an outfield collision at Arizona. Doctors told him he could forget about playing again in 2016.
Not only did Schwarber return in the World Series against Cleveland after months of rehab, he went 7 for 17 to help the Cubs finish off their historic run.
But this season hardly went the way he or the Cubs anticipated. With soaring expectations, manager Joe Maddon penciled Schwarber into the leadoff spot thinking he could supply some pop and a high on-base percentage at the top of the order with Dexter Fowler gone.
Instead, Schwarber struggled in a huge way, got sent to Triple-A and only recently started to come around.
"It obviously stinks," he said. "You don't want it to ever happen. I came to the field every day wanting to work and get better. I never once was content with where I was at. Even when I'm going good, I'm not content with how everything's going."
He called this "another year of perseverance," though the circumstances weren't the same. He said his struggles were "no one else's fault."
The No. 4 overall pick in the 2014 draft, Schwarber hit .211 with 30 homers and 59 RBIs. But he came on strong down the stretch, with a .311 average and six homers in his final 16 games.
"You talk about a guy who is a fighter," Maddon said. "Give the guy real high marks for perseverance."
He pointed a finger at himself for fueling expectations. Maddon said he also should have "considered maybe more" the fact that the young slugger missed nearly all of last season.
But he has no regrets about batting Schwarber leadoff. He figured it was a good spot for a player he expected to hit around .250 with a .350 on-base percentage. And he dismissed the idea that putting him at the top of the lineup contributed to his struggles.
"It's easy to draw those kinds of conclusions, but it had nothing to do with hitting leadoff," Maddon said. "Zero. When I hear about that, that indicates to me a total lack of understanding of what he was going through."
He also said sending Schwarber to Triple-A in late June was "absolutely necessary."
At the time, the 24-year-old Schwarber was batting .171. The Cubs saw the move as a chance to catch his breath, to reboot.
"Everybody has to learn how to respond to failure," said Zobrist, a three-time All-Star and 2016 World Series MVP who shuttled between the majors and minors early in his career with Tampa Bay. "We all need to know how to take adversity and use it for our benefit and grow from it as opposed to letting it tear you down."
Schwarber tightened his swing. He kept his head up, too.
"I love this game of baseball," he said. "I want to be in it for as long as I can, and I feel like that is only one thing that's gonna help. That's why I never wanted to hang my head. I didn't want to be a negative guy. I'm always gonna come in here with a positive outlook and keep grinding at it."
___
More AP baseball: https://apnews.com/tag/MLBbaseball