UCF capping 'championship' season with Disney World parade Sunday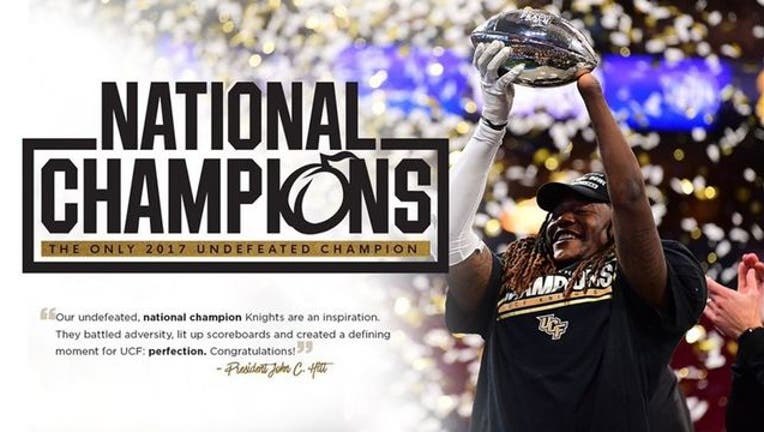 article
(FoxNews.com) - And college football's national champion is…UCF?
The University of Central Florida is shamelessly staking its claim to the title after going undefeated and beating Auburn -- the only team Alabama and Georgia lost to this season -- in the Chick-Fil-A Peach Bowl on New Year's Day.
UCF is even holding a celebratory parade for the team at Disney World on Sunday, the day before Alabama and Georgia are set to play for the recognized national title.
After beating Auburn, UCF football's Twitter feed was changed to "2017 National Champions" with the logo to match. The school has also made championship T-shirts available and will raise a championship banner in their stadium. 
"If you take the long view of the history of college football, there's an awful lot of national championships being claimed by universities that didn't accomplish what we accomplished this year in those respective seasons, so we feel we're more than justified to claim our first national championship, and we think it'll be the first of many," UCF athletic director Danny White told ESPN. "I don't think our kids should be penalized because we weren't respected by the College Football Playoff committee, nor should our program be penalized because we weren't around 20 or 30 years ago when people were claiming national championships left and right.
"We're trying to build our program, and we feel very strongly as the only undefeated team and having beat Auburn, who beat both teams competing for the national championship, that we have an extremely sound case to claim the crown."
White said the school is doling out national championship bonuses that's called for in the contracts of the football staff.
UCF doesn't play in a Power 5 conference and was left out of the College Football Playoff.  
Orlando Sentinel columnist Mike Bianchi wrote Saturday that UCF deserves to be called national champs, while adding that the city of Orlando will take a championship any way it can get one.
But SEC Commissioner Greg Sankey dismissed the Knights' claim by not addressing it, 247sports.com reported Saturday.
"The national championship will be played Monday night, Jan. 8, in Atlanta, Georgia," Sankey said. "And the winner of that game between the University of Georgia and the University of Alabama will be the national champion."
Alabama coach Nick Saban wasn't fazed at all by UCF's claim, the New York Post reported. He, like nearly everyone else, knows the title won't be won until Monday night.
"I'm fine with it," Saban said. "Doesn't mean anything to anybody but them."
More on FoxNews.com.