Wilson Contreras shines in debut, Cubs sweep Pirates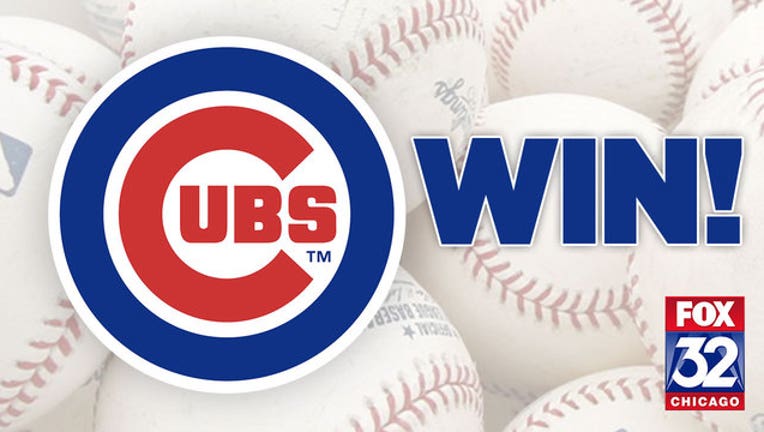 article
CHICAGO (AP) - Prized prospect Willson Contreras crushed the first pitch he saw in the major leagues for a two-run home run, Kyle Hendricks struck out a career-high 12 in six innings and the Chicago Cubs completed a sweep of the fading Pittsburgh Pirates with a 10-5 victory Sunday night.
Contreras, called up from Triple-A on Friday, pinch hit for Hendricks in the sixth and sent A.J. Schugel's changeup an estimated 415 feet to center. The cheering crowd didn't let up until the 24-year-old Venezuelan catcher obliged with a curtain call.
Kris Bryant and Anthony Rizzo hit consecutive home runs in the third and Javier Baez added a solo shot for the Cubs, all off rookie Jameson Taillon (1-1). Addison Russell hit a two-run shot in the seventh for the Cubs, who have eight homers in two games.
Josh Harrison's solo home run was the lone blemish off Hendricks (5-6), who walked none and allowed seven hits.
Starling Marte returned from injury and had a two-run triple off Adam Warren in a three-run seventh for the Pirates, who have lost 17 of 22 and fell 15 games behind the Cubs in the NL Central.
Chicago's overall division lead jumped to 12 1/2 games over St. Louis with Contreras providing the latest feel-good story.
He arrived from Iowa on Friday and played one inning of defense. Manager Joe Maddon announced before the game that Contreras would get his first start at catcher Monday.
Rizzo added two RBI singles for the Cubs, who completed their seventh series sweep of the season.
Chicago jumped on Taillon after the rookie took a no-hitter into the seventh inning in a victory Tuesday against the New York Mets.
Bryant and Rizzo crushed misplaced fastballs, marking the fifth time this season they've homered in the same game.