2 charged with fatal drive-by shooting on the Northwest Side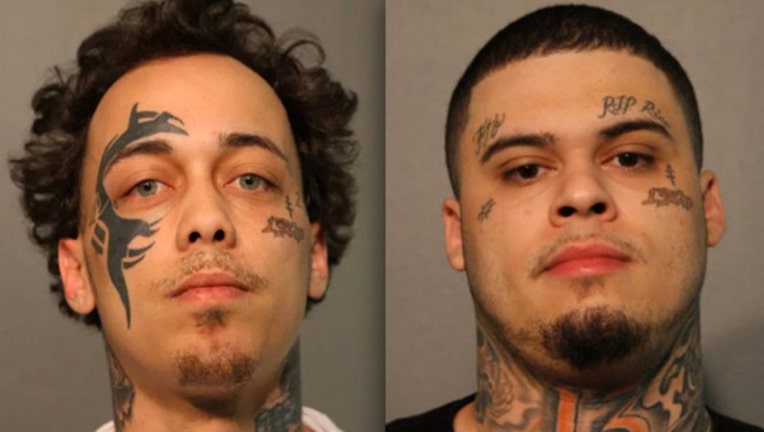 article
CHICAGO (Sun-Times Media Wire) - Two men were ordered held in lieu of $2 million bail Friday for a fatal drive-by shooting on the Northwest Side late last year, the Chicago Sun-Times is reporting.
The heavily tattooed Santo Lozoya and Jose Martinez were arrested Wednesday at Lozoya's home, in the 900 block of North Homan Avenue, Assistant Cook County State's Attorney Joseph Carlson said.
Crispin Coliz, who had attended the Chicago Bulls game with several others Dec. 16, was shot that night after his two killers confronted him at a convenience store at Grace and Harlem, Carlson said.
When 28-year-old Coliz went into the store with two of his friends, Martinez made movements toward his waist implying he had a gun, Carlson said.
Then, Lozoya pulled out a weapon and racked the slide back, Carlson said.
When Coliz left the store because he forgot his wallet, Martinez asked Coliz and his two friends about their gang affiliations, saying, "What's up?" Carlson said.
The group ignored Martinez, of the 4400 block of West Altgeld, and went back into the store to make their purchases, Carlson said.
Coliz drove off with four others in his car. At that point, Martinez and Lozoya and the vehicle they were in were gone, Carlson said.
Coliz had turned off Harlem onto Grace as a second car with three more of his friends followed; that's when he noticed the white Jeep with Martinez and Lozoya in it, Carlson said.
Eventually 19-year-old Lozoya, who was driving, pulled up to Coliz's car, Carlson said, and four or five shots were fired at Coliz's vehicle, Carlson said.
Coliz's friend in the other vehicle saw an arm stick out of the passenger side window of the Jeep Lozoya was driving, Carlson said.
Coliz was hit in the temple and his car crashed. Residents heard the wreck and called 911.
Coliz, of southwest suburban Cherry Hill, died at Lutheran General Hospital in Park Ridge.
His 29th birthday was the next day, according to a police report.
Police recovered two shell casings at the crime scene, Carlson said: one .45-caliber, and one .40-caliber.
Lozoya and Martinez, 23, allegedly admitted their roles in Coliz's murder and a woman who let Lozoya borrow her car the day of the murder had the same make, model and color of vehicle that the witnesses described, Carlson said.
After Lozoya and Martinez were arrested, a blue-steel semi-automatic 9mm handgun, loaded with 15 rounds, was recovered from Lozoya's home, Carlson said. That gun was previously reported stolen from Barrington, Carlson told Judge Donald Panarese Jr.