2 killed in shootout at Harvey convenience store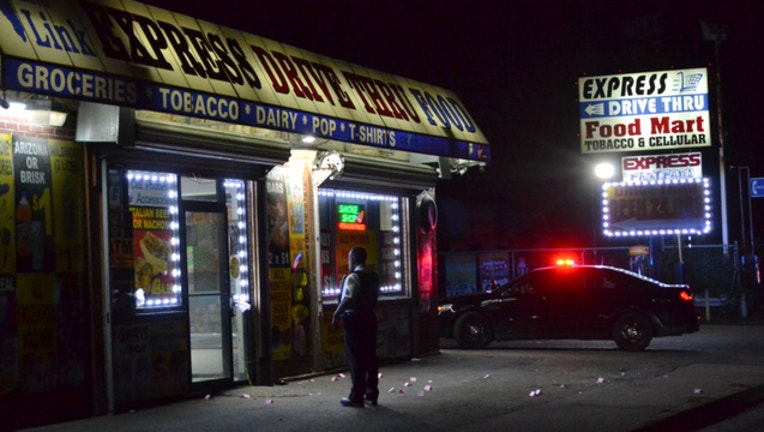 HARVEY (Sun-Times Media Wire) - A man and a teenage boy were killed in a shootout between two groups of people on the evening of Aug. 14 at a convenience store in south suburban Harvey.
The shooting happened about 10:30 p.m. at the Express Drive Thru Food Mart, 14620 S. Halsted St., according to Harvey city spokesman Sean Howard.
The incident started when a dark-colored Jeep Grand Cherokee drove into the store's parking lot and one of its four occupants got out and went into the store, Howard said. Three males who were standing on the sidewalk across the street then went into the store to confront him.
When those three tried to leave the store after the confrontation, the remaining occupants of the Jeep started shooting at them, Howard said. The man from the Jeep who was inside the store also fired at the group, and at least one member of the group was also armed and returned fire. At least four of the seven people involved were believed to have been armed and fired shots during the incident.
Bryan Harris, 19, and 17-year-old Tejean Hall were killed in the shootout, according to Howard and the Cook County Medical Examiner's Office. They were both part of the group that had come into the store from across the street.
Howard said Harris was the brother of Ryan Harris, an 11-year-old girl who was found raped and murdered in Englewood in 1998. Hall was a resident of Harvey, according to the medical examiner's office.
The other four males then drove off in the Jeep, Howard said. He said Illinois State Police later spotted the vehicle near State and Lake in the Loop, but eventually called off their pursuit.
No other injuries were reported in the shooting, Howard said. He said investigators were following up on leads the morning after and hoped to make an arrest soon.