4 Chicago men charged with Oak Lawn kidnapping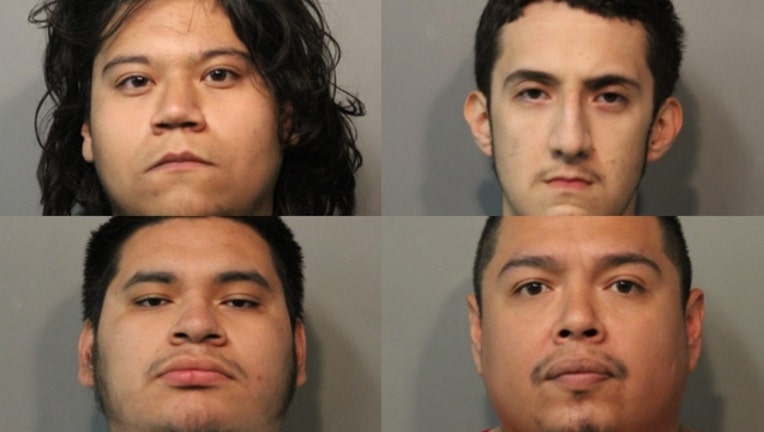 OAK LAWN (Sun Times Media Wire) --  Four Chicago men are facing felony charges after they allegedly kidnapped another Chicago man Thursday morning in south suburban Oak Lawn and brought him to the Englewood neighborhood on the city's South Side.
About 11:30 a.m., officers responded to a call of a kidnapping in the 4700 block of West 101st Street, according to Oak Lawn police.
A witness saw a vehicle with four males inside approach another vehicle when it was stopped at a red light near the intersection of 103rd Street and Cicero Avenue, police said.
The group of males, one of whom was brandishing a knife, then got out of their vehicle and tried to pull the male driver from the other vehicle, which was also occupied by a female and a small child, police said. The male driver was able to temporarily get away, but a flat tire stymied the escape on 101st Street.
The four males then grabbed the driver, put him in their car and drove off, police said.
Detectives then tracked their vehicle to the area near the intersection of 60th and Elizabeth streets in Englewood, police said. Four men were taken into custody after being identified by witnesses.
Felony charges of aggravated kidnapping were filed against Francisco Arroyo Jr., 18, of the Brighton Park neighborhood; Daniel Cabrera, 19, of the Englewood neighborhood; Michael Hernandez, 18, of the Brighton Park neighborhood; and Andrew Martinez, 34, of the Gage Park neighborhood, police said.
The victim, a 24-year-old man from the Brighton Park neighborhood, was released before officers showed up, police said. He was later found with minor facial injuries he suffered during the kidnapping.
The man knew his kidnappers, who were apparently retaliating for a stabbing that happened in the city, police said. While he wasn't involved in the stabbing, the man's connection to the incident remains under investigation.
Arroyo, Cabrera, Hernandez and Martinez are being held without bond at Cook County Jail, according to the Cook County sheriff's office. They are all scheduled to appear in court on Tuesday.