Activists say hunger strike over Chicago school has ended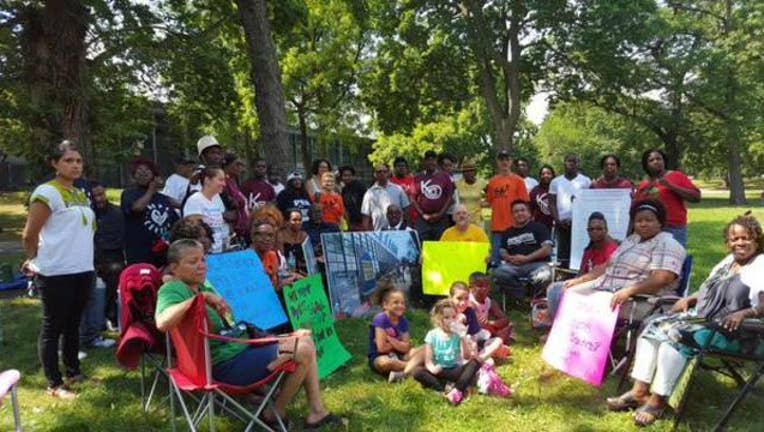 article
CHICAGO (AP) — Activists have announced the end of a 34-day hunger strike over the fate of a Chicago neighborhood school, an effort that garnered national headlines when supporters disrupted public budget hearings held by Mayor Rahm Emanuel.
About a dozen activists went without solid foods over the plans for Walter H. Dyett High School, which was once slated for a phased-out closure. Officials with the nation's third-largest school district had cited poor performance and declining enrollment, but later said they'd consider proposals to reopen it. Earlier this month Chicago Public Schools CEO Forrest Claypool announced it would reopen as an arts-focused school.
However, the activists, who wanted a community partnership for a green technology school, said they weren't happy and continued their strike. They said their efforts were sparked by what they considered racial disparities in the school system — Dyett is located in the historically black Bronzeville neighborhood — and that the decision-making for the school's future wasn't transparent or in line with what the area wanted.
They announced the end of the hunger strike on Saturday over health and safety concerns, saying more details would follow in the coming days.
"We did not want to see one of our fellow hunger strikers die," said activist Aisha Wade-Bey, according to The Chicago Sun-Times (http://bit.ly/1LGwDHE ).
Parents and activists had long opposed the closure of Dyett.
The efforts drew widespread attention when protests became so intense at a community budget hearing this month that Emanuel was escorted from the room. The group of hunger strikers, who sought help from U.S. Secretary of Education Arne Duncan, also drew solidarity from the Rev. Jesse Jackson.
Claypool said plans for the new open-enrollment school were made after consulting with the community and the group's concerns were considered, even though not all demands were met.
___
Information from: Chicago Sun-Times, http://chicago.suntimes.com/