Attorney: Hastert won't appeal 15-month prison sentence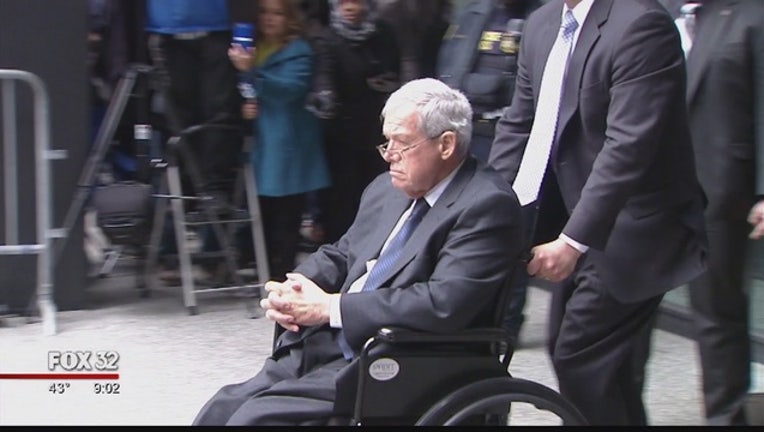 article
CHICAGO (Sun-Times Media Wire) - Dennis Hastert does not plan to appeal the 15-month prison sentence handed down in a dramatic court hearing late last month, his lead attorney told the Chicago Sun-Times.
Thomas Green confirmed in a one-word email to the Sun-Times on Thursday that Hastert won't fight the punishment. Hastert's plea deal with federal prosecutors gave him two weeks to file an appeal. Though two weeks have passed since his sentencing hearing, U.S. District Judge Thomas Durkin's sentencing order wasn't entered on the court docket until two days later, on April 29.
Durkin called the former speaker a "serial child molester" last month and forced him to admit he sexually abused students decades ago at Yorkville High School.
The judge also ordered Hastert to participate in a sex offender treatment program and pay a fine of $250,000.
In comments that revealed the depths of his anger over Hastert's conduct, the judge described the former speaker's actions as "unconscionable." He said "some conduct is unforgivable no matter how old it is." And he called Hastert's sentencing day "sad for our country."
Hastert pleaded guilty in October to a financial crime — withdrawing a total of $952,000 from his bank accounts in a way that would avoid detection. But his past sexual abuse of teenage boys took center stage at his sentencing hearing at the Dirksen Federal Courthouse.
The dramatic two-hour hearing included testimony from Scott Cross, who for the first time revealed himself to be the person previously known in court papers only as Individual D. Cross, the brother of former state House GOP leader Tom Cross, testified that Hastert molested him when he stayed after school one night to cut weight for the wrestling team.
The sister of another victim, the late Stephen Reinboldt, also testified.
The man at the center of Hastert's May 2015 indictment, Individual A, did not speak. Hastert agreed to pay Individual A $3.5 million in hush money but paid only $1.7 million. Individual A has sued Hastert for the remaining $1.8 million.
When the bank first questioned Hastert about suspicious bank withdrawals, Hastert lied and claimed he was using the money to buy stocks and antique cars. He later told authorities he was the victim of an extortion plot by Individual A. He helped the feds secretly record two phone conversations with Individual A in March 2015.
But authorities began to doubt the claim and confronted Individual A. That's when Hastert's dark secrets began to spill out.
Green said in a statement immediately after the hearing that the former speaker had accepted his sentence.
"He takes sole responsibility for this tragic situation and deeply apologizes to all those affected by his actions," Green said. "He hopes that he now can focus on addressing his health issues and on healing the emotional damage that has been inflicted on his family and friends who have shown unwavering support throughout this trying time."