Barack Obama to push Supreme Court nominee at University of Chicago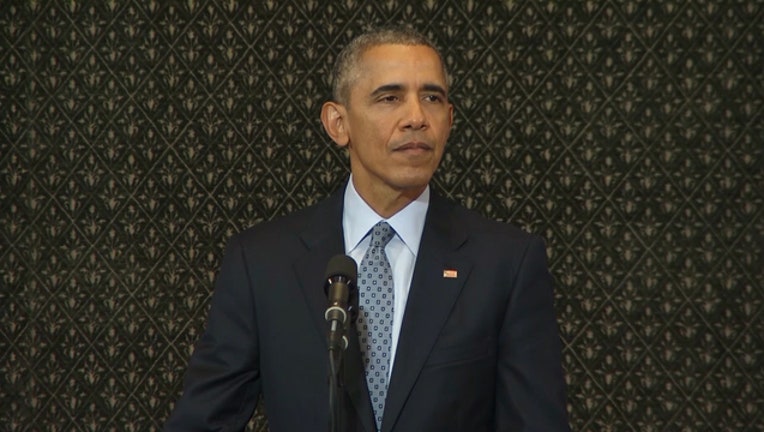 article
WASHINGTON (AP) - Kansas Republican Sen. Jerry Moran is backtracking on his willingness to hold a hearing and vote on President Barack Obama's Supreme Court nominee, reversing course after infuriating conservatives.
Falling in line with GOP leadership, Moran's office issued a statement Friday saying the senator has examined Judge Merrick Garland's record and doesn't need hearings to conclude that the nominee's judicial philosophy makes "Garland unacceptable to serve on the Supreme Court."
The senator relayed his views to Sen. Chuck Grassley, R-Iowa, chairman of the Judiciary Committee. Grassley welcomed Moran's change of heart, saying " I'm confident that he's committed to ensuring the American people have an opportunity to make their voices heard during this pivotal election, and that the Senate should consider the nominee submitted by the next president,"
Just last week, Moran called for a hearing and showed openness to a vote.
"I would rather have you (constituents) complaining to me that I voted wrong on nominating somebody than saying I'm not doing my job," he told a small gathering of constituents in Cimarron, Kansas, according to The Garden City Telegram.
Moran has maintained that it was extremely unlikely he'd back the nominee and expressed doubt that Senate Majority Leader Mitch McConnell, R-Ky., would let the Senate process proceed.
The senator's retreat on holding a hearing comes as Democrats and the White House are looking for cracks in the Republican firewall, led by McConnell, against hearings or votes on Garland, Obama's choice to succeed the conservative Justice Antonin Scalia, who died in February.
Moran's reversal leaves just two of 54 Republican senators - Illinois' Mark Kirk and Maine's Susan Collins - open to hearings and a vote. The Kansan faced a backlash from tea partyers and conservative groups for his initial stance.
Carrie Severino of the Judicial Crisis Network, a fierce opponent of Obama's move to fill the vacancy, welcomed Moran's switch, saying the senator "seems to have reviewed his record, listened to his constituents, and responded just as one would hope a conservative senator would respond."
Democrats claim they have gained momentum and turned the heat up on Republicans during the past two weeks of Senate recess. Opinion polls suggest the public supports hearings on Garland's nomination and senators such as Grassley have been confronted on the topic by constituents.
"We are making steady but significant progress," said Sen. Charles Schumer, D-N.Y., on a media call organized by liberal activists. "Hopefully Judge Garland will turn into Justice Garland in the coming months."
Republican senators insist they will hold no hearings or a confirmation vote on the nomination in a presidential election year, and the next president should get to choose the next justice. Some GOP lawmakers have expressed a willingness at least to meet Garland. Kirk met Garland this past week, while two more GOP senators will next week, Collins and John Boozman of Arkansas. Ohio Sen. Rob Portman said Friday he is talking to the White House to arrange a meeting with the nominee.
Obama insists the Senate has a constitutional responsibility and plenty of time to consider Garland, and heads to a law school next week to push the nomination.
Obama adviser Brian Deese said Friday that Obama will return Thursday to the University of Chicago Law School to argue for Senate consideration of the appeals judge's nomination. Obama taught constitutional law at the university for several years before he entered politics. It's also the political backyard of Kirk, who is in a competitive re-election race.
Garland has mostly met Democratic senators on Capitol Hill and has a full roster of them lined up next week.
Schumer noted that pro-Republican groups have been running ads criticizing Garland as a liberal.
"If they want to debate his record or qualifications to be a justice, that's great," Schumer said. "Let's do it in a hearing."