Blackhawks roll into Cup finals, beating Ducks 5-3 in Game 7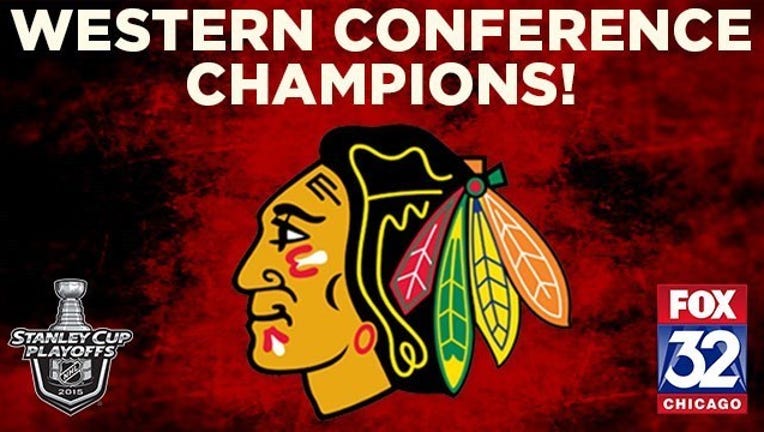 article
ANAHEIM, Calif. (AP) - Jonathan Toews scored two goals in the opening minutes, Corey Crawford made 35 saves and the Chicago Blackhawks roared into the Stanley Cup Finals with a 5-3 victory over the Anaheim Ducks in Game 7 of the Western Conference finals Saturday night.
Brandon Saad, Marian Hossa and Brent Seabrook also scored for the Blackhawks, who will play for their third NHL championship in six seasons when they face the Tampa Bay Lightning beginning Wednesday night in Florida.
After six games of tense hockey in an extraordinary series, Game 7 was an incongruous rout. Toews was responsible for it, burnishing his reputation for big-game brilliance with a rebound goal just 2:23 in and another power-play score before 12 minutes elapsed.
Anaheim lost a Game 7 at home for the third straight season.
The Ducks blew a 3-2 series lead each time, compounding the heartbreak for a talented team that hasn't developed the postseason poise possessed by Chicago and other champions.
The Blackhawks led 4-0 before Ryan Kesler scored late in the second period for the Ducks. Corey Perry scored for Anaheim with 8:24 to play, but Seabrook scored on a power play shortly afterward.
Patrick Kane had three assists for Chicago, which won three of the series' final four games to seize another Western Conference title.
The Blackhawks have defied conventional NHL parity to reach three Stanley Cup Finals and five conference finals in a seven-year stretch under coach Joel Quenneville. That's because their stars are unmatched: From Toews and Kane to Duncan Keith and Seabrook, nobody knows how to win like Chicago.
Keith had two assists while completing the series with a jaw-dropping 230 minutes, 48 seconds of ice time for a team largely relying on four defensemen.
Brad Richards, who won the Conn Smythe Trophy in 2004 with Tampa Bay, had two assists for Chicago while improving to 8-0 in Game 7 in his NHL career.
Frederik Andersen made 21 saves for the Ducks, giving up three goals on Chicago's first seven shots.
The collapse came abruptly for Anaheim, which went a record-tying 14 games into the postseason without a regulation defeat until losing the last two games by a combined 10-5. Matt Beleskey scored a power-play goal in the final minute for the Ducks, who finished one game shy of their first Stanley Cup Final since 2007.
Three days after Chicago staved off elimination with a 5-2 win at home, Toews somehow managed to top his last appearance at Honda Center. He tied Game 5 on Monday with two electrifying goals in the final minutes before Anaheim won in overtime.
Captain Serious showed how much he thought of Game 7 pressure when he scored just 2:23 in. Niklas Hjalmarsson's long shot rebounded straight to Toews, who scored his fourth goal of the series when the Ducks inexplicably failed to defend him.
Anaheim immediately showed tension in its game, perhaps remembering their three-goal first period deficit in their Game 7 loss to the Los Angeles Kings last spring. After Jakob Silfverberg took a hooking penalty midway through the period, Toews capitalized with a high shot through traffic, getting it through Saad's screen in front.
Chicago needed just 78 seconds in the second period to take a three-goal lead, with Kane finding Saad wide open at the net after a funny bounce off the boards.
Anaheim finally made an offensive push, but Crawford handled it easily before Hossa essentially put the game out of reach when a rebound hit his skate and went past Andersen. Video review found no distinct kicking motion on Hossa's third goal of the series.
The Blackhawks bounced back this season after their Game 7 loss to the Kings in last spring's conference finals. Chicago outlasted Nashville and swept Minnesota this spring before grinding out an epic against Anaheim in the franchises' first playoff meeting.
NOTES: Ryan Getzlaf and Francois Beauchemin both played in their 97th postseason game with the Ducks, surpassing Teemu Selanne's franchise record. ... Tomas Fleischmann returned to Anaheim's lineup, and Emerson Etem was scratched. ... Chicago improved to 32-0 this season when leading after two periods.
Copyright 2015 The Associated Press. All rights reserved. This material may not be published, broadcast, rewritten or redistributed.