Buffalo Bills stadium employee quits after players kneel during anthem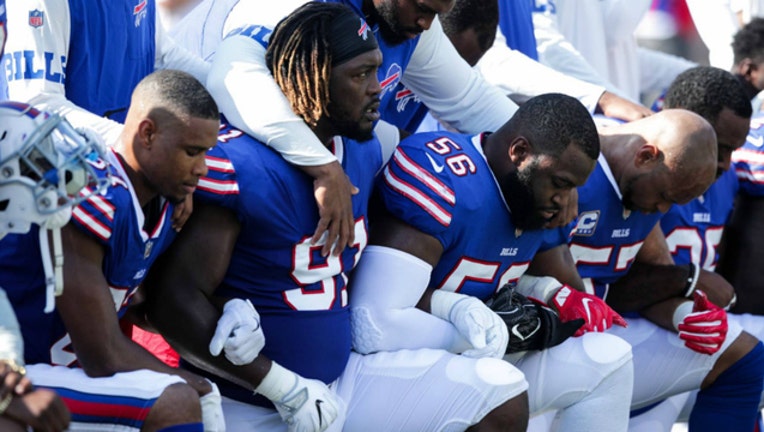 article
FOX NEWS - A Buffalo Bills stadium employee quit his job after at least a dozen team players kneeled during the national anthem prior to their game Sunday afternoon.
Erich Nikischer, who worked at New Era Field for almost 30 years, told WGRZ-TV that he quit right after he saw Bills players kneeling during the anthem as a form of protest.
"I waited until the national anthem ended, I took off my shirt, threw my Bills hat on the ground, walked out," Nikischer said.
The former employee said he believes people have the right to protest, but feels that doing so during The Star-Spangled Banner is disrespectful.
"During the National Anthem… the song that is about our country, our veterans that fight and die for us, it's just something I feel you shouldn't disrespect that way. I believe people have the right to protest; I just don't believe that's the proper venue for it," Nikischer added.
Nikischer wrote in a now-deleted Facebook post that on Sunday he was "pushed to my limit today and had to quit. I can not work in a place where multi millionaires cry that they are oppressed."
During Sunday's game versus the Denver Broncos, some players locked arms with one another, while others kneeled — a trend seen among more than 130 NFL players who were protesting President Trump's recent comments about players kneeling during the anthem.
"Wouldn't you love to see one of these NFL owners, when somebody disrespects our flag, you'd say, 'Get that son of a b---- off the field right now. Out! He's fired,'" Trump said Friday at a rally in Alabama, sparking a Twitter firestorm on the issue from the president throughout the weekend.