Chicago cop who killed unarmed woman resigns from force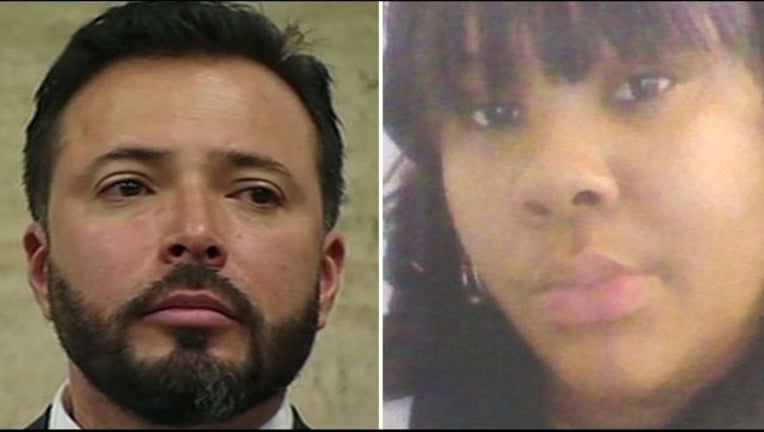 CHICAGO (AP) - A Chicago police officer whose fatal shooting of an unarmed woman was one of a series of killings of young black people that shattered the public's trust has opted to quit rather than fight to keep his job.
The city's police board announced Tuesday that Dante Servin, who was off duty when he shot 22-year-old Rekia Boyd in 2012, resigned two days before a hearing at which the board was to decide if he should be fired.
The case has been of intense interest in Chicago and beyond, both because of the facts of the situation and the controversy that engulfed the department in the years that followed.
Boyd, like the teenager Laquan McDonald who was shot in 2014, was African-American. In March of 2012, she was with a group of friends walking on the street when Servin told them to be quiet. Servin fired because he said he saw a person moving toward him with a gun, but police later found only a cellphone at the scene.
Prosecutors charged Servin with involuntary manslaughter, but in April of last year, a judge issued a surprising acquittal, explaining that Servin had been improperly charged, and suggested that if the act was intentional, then the crime, "if any there be, is first-degree murder."
The city settled a wrongful-death lawsuit in 2013 with Boyd's family for $4.5 million.
In November, then-police Superintendent Garry McCarthy announced he would recommend Servin be fired. That came amid intense anger over the delayed release of the video of Officer Jason Van Dyke shooting McDonald 16 times, and the day before Van Dyke was charged with first-degree murder.
That timing, particularly since McCarthy had earlier said he did not believe Servin should have been charged, contributed to suspicions that McCarthy was simply trying to assuage an increasingly angry city.
Brandon Smith, a freelance journalist who sued the city to get the McDonald video released, said the Servin case could have helped the city's credibility when it desperately needed it in the wake of the release of the McDonald dashcam video.
"If they had moved to fire him in a matter of weeks ... they could have pointed to that as an example of how they aggressively investigated and discipline officers," he said. "As it was, they had no examples."
"Today, the Police Board was informed that Dante Servin resigned his employment with the Chicago Police Department. This resignation comes two days before an evidentiary hearing regarding various charges against Servin was set to begin," the Chicago Police Board said in a statement.
"It is the board's understanding that given the resignation, counsel for the superintendent will follow normal procedure and file a motion with the board seeking to withdraw all charges against Servin without prejudice. The Board will then take that motion under advisement and take action at its regular monthly public meeting on Thursday . . .  In light of the resignation, the previously scheduled evidentiary hearing will not proceed."