Chicago men led police on high-speed chase from Hinsdale to Oak Lawn in stolen Jeep: prosecutors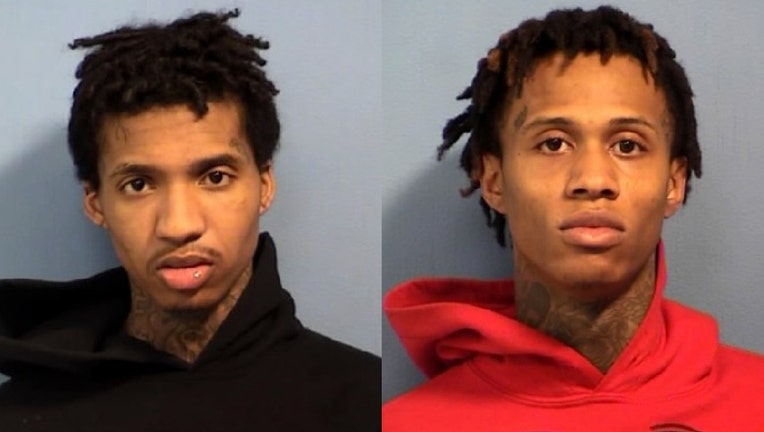 article
HINSDALE,, Ill. - Bond has been set for two Chicago men accused of leading police on a high-speed chase in a stolen vehicle.
Metrevell Hutchinson, 21, and Cobie Vaughn, 20, are charged with one count of possession of a stolen motor vehicle.
Hutchinson is also charged with one count of aggravated fleeing and eluding a police officer.
At about 1:25 a.m. Friday, a Hinsdale police officer observed a 2022 Jeep Compass that was reported stolen out of Glen Ellyn the day before on a side street.
As the officer approached the Jeep, a man, later identified as Vaughn, entered the front passenger seat and the car drove away.
The officer then activated his emergency lights and sirens and began pursuit of the Jeep, prosecutors said.
SUBSCRIBE TO FOX 32 ON YOUTUBE
Instead of pulling over, the Jeep, later determined to be driven by Hutchinson, continued to flee the officer at speeds exceeding 70 mph in a 35 mph zone.
The Jeep then approached Ogden Avenue and Interstate 294, where it ran over spike strips that damaged the front right tire, prosecutors said.
Hutchinson allegedly continued to drive on I-294 southbound, and a Chicago Police Department helicopter began tracking the vehicle.
The Jeep came to a stop in Oak Lawn at about 1:46 a.m., at which time Hutchinson and Vaughn were taken into custody.
"The epidemic these past several months of motorists fleeing from police shows no signs of slowing down," said DuPage County State's Attorney Robert Berlin. "This is very simple, if you hear sirens and see flashing lights behind you, pull over. I can't be more clear - anyone who attempts to flee from police will be caught. We will use every tool available to us, including the use of a helicopter and assistance from neighboring agencies, as in this case, to apprehend those who think they can outrun the police. Thankfully, no innocent motorists or pedestrians were injured or killed as a result of Mr. Hutchinson's alleged actions."
A judge set bond for both men at $250,000 each. 
The next court appearance for both men is scheduled for May 22.