Chicago prepares to double parking rates around Wrigley Field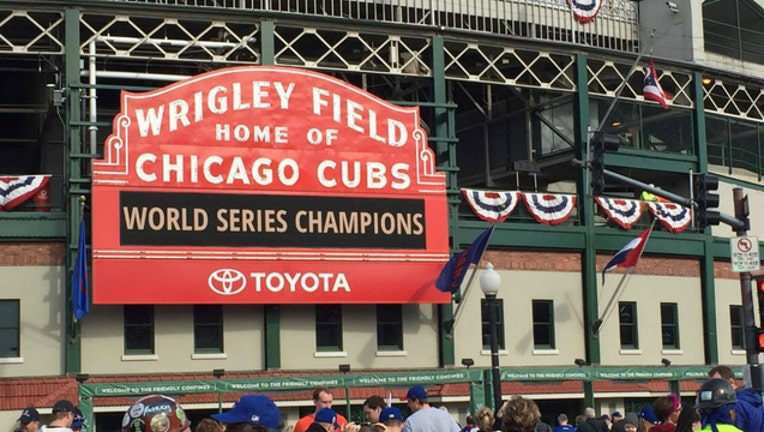 article
SUN-TIMES MEDIA WIRE - With spring training under way and the World Champion Cubs scheduled to open their season in five weeks, City Hall is gearing up to implement Mayor Rahm Emanuel's plan to double parking meter rates at 820 spaces around Wrigley Field.
The city sign shop is finalizing production of signs that will start going up shortly in an area bounded by the north side of Irving Park Road, the west side of Southport, the south side of Belmont and the east side of Broadway.
Within those boundaries, parking meter rates will double — from $2-an-hour to $4, the Chicago Sun-Times is reporting. The new rate will begin two hours before a game, concert or special event at Wrigley, and extend for seven hours.
At Wednesday's City Council meeting Emanuel introduced a pair of technical amendments to set the stage for the "surge-pricing" experiment.
The first change would align the new fees with "programmed payment increments" used by the pay boxes that replaced Chicago parking meters.
Since the pay boxes start on the hour, surge pricing would begin "at the hour nearest to" two hours prior to the Cubs game, Wrigley concert or other special event.
If the game starts at 7:05 p.m., as most night games do, surge pricing would begin at 5 p.m.
"We're rounding to the nearest hour," said Molly Poppe, a spokeswoman for the Office of Budget and Management.
The second change would clarify when surge pricing ends. Currently, paid parking ends on the streets surrounding Wrigley Field at 10 p.m. The new language would allow surge pricing to extend beyond 10 p.m. to include the seven-hour window.
"If it's a Monday and there's no event, there's nothing going on, paid parking would end at 10 p.m. But if Bruce Springsteen is performing at Wrigley and the event starts at 7, surge pricing would continue until midnight. We're not going to cut it off at 10 p.m." Poppe said.
Why not treat all motorists the same and stop surge pricing at 10 p.m.?
"It's designed to reduce congestion and improve traffic flow in the area and create competition relative to the parking alternatives in the area. We've also heard from businesses that people come and park there for hours and hours on end. It's designed to encourage turnover at these businesses in and around Wrigleyville," Poppe said.
"Think about the number of bars in that area and places that stay open late, especially during special events. At an alternative parking lot, they don't stop charging at 10 p.m."
The new rate is expected to generate roughly $2.4 million. That money would be used to off-set the annual payment to Chicago Parking Meters LLC for meters taken out of service for construction and special events, or used by people with disabilities. The last annual payment for those so-called "true-up" costs amounted to $12 million.
Chief Financial Officer Carole Brown has noted that $4-an-hour is "still a bargain if you can find a spot . . . And we're gonna test it to see if there's a positive impact on the neighbors and business owners. If it is a successful pilot, we will consider doing it in other key areas, like around Soldier Field and the United Center."
The surge pricing experiment around Wrigley was one of several parking changes include in Emanuel's 2017 budget.
The city also installed 752 new paid spaces: 374 of them in the Central Business District, 153 in the Loop and 225 metered spaces in surrounding neighborhoods.
The additional spaces are expected to raise $3.4 million for the company that paid $1.15 billion to lease Chicago parking meters for 75 years.
To raise $13.8 million, the city has started charging drivers to park in loading zones in three congested wards in or near Downtown: the 2nd, 27th and 42nd.
Loading zones have long been tied to the proprietor – not the user. In the pilot areas, the user of the loading zone now pays at a rate of $14 an hour. Loading zones in front of hospitals, schools, hotels, day care centers and government buildings are exempt.
Parking rates at O'Hare and Midway airports also rose substantially, generating $4.3 million in parking tax revenue for the city and $15 million more for the fund used to operate both airports.