Convicted killer shot himself in Park Forest home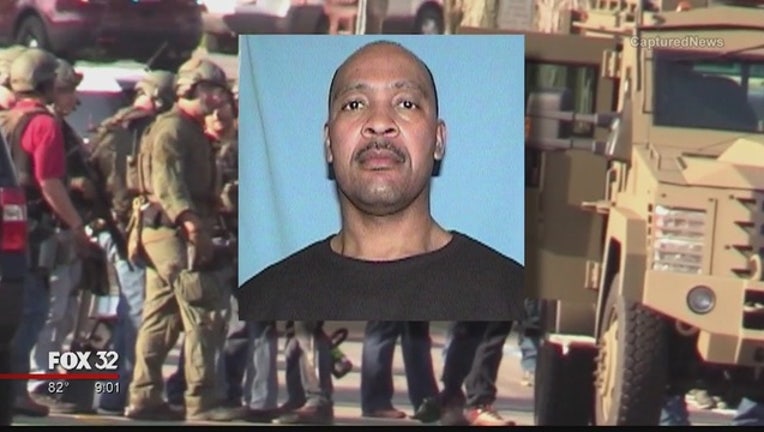 article
CHICAGO (Sun-Times Media Wire) - Two FBI agents were shot Tuesday morning while serving an arrest warrant on a reputed street gang leader and suspected heroin trafficker who was found dead with a self-inflicted gunshot wound in his Park Forest home, the Chicago Sun-Times is reporting.
The agents were treated at an area hospital for injuries that were not life-threatening and released within hours.
"Lucky. Lucky," FBI spokesman Garrett Croon said of their wounds.
The agents were attempting to arrest Melvin Toran, a high-ranking member of the Black P-Stone Nation street gang who was set to be charged in federal court with distributing heroin.
Toran, 50, was found dead in the home, authorities said. An autopsy Wednesday found he died of a gunshot wound to the head, and his death was ruled a suicide, according to the Cook County medical examiner's office.
Croon said details of the shooting would not be available until the completion of an FBI review of the incident, which could take up to two weeks.
Toran was caught up in a two-year investigation, conducted by the FBI and Chicago Police Department, into several leaders of the street gang who now face drug or gun charges for their alleged roles in selling narcotics and firearms on the South Side, according to a statement released Tuesday by the U.S. Attorney's Office.
Court records show Toran was convicted of murder in 1984 and sentenced to 20 years in prison. He also has been convicted of drug trafficking and illegal possession of firearms, the latter of which earned him a seven-year prison sentence in 2008, court records show.
Several gang leaders were arrested Tuesday as part of the probe. Evidence against them includes wiretapped cellular phone conversations, cooperating witnesses, controlled purchases of drugs and guns and extensive surveillance, according to the statement.
The investigation also uncovered a heroin and cocaine operation being run out of a South Side clothing store.
When paying for clothing at the checkout counter, a worker would bag the item and pass over an additional bag containing the narcotics.
"In the summer of 2015, a cooperating source – working at the direction of investigators – purchased more than 1,000 grams of heroin from the store owner for $72,720," the statement said.