Cops: Facebook video of felon with gun prompts arrest in Waukegan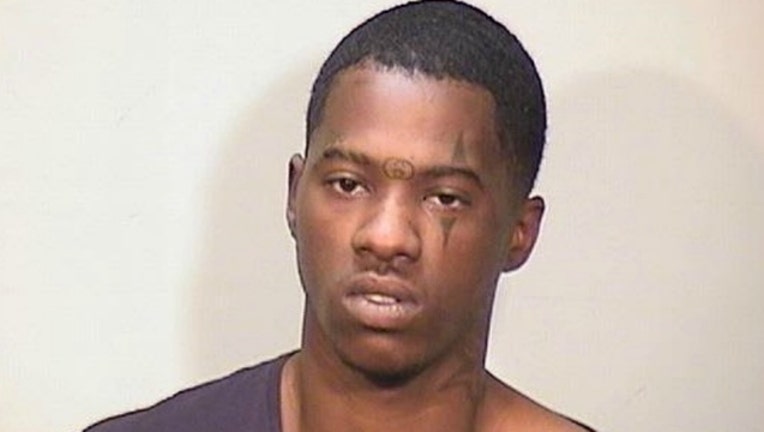 article
WAUKEGAN (Sun-Times Media Wire) - A felon who posted a video to Facebook showing himself mocking a north suburban police officer while holding a gun has been arrested and charged with possession of the gun, as well as drugs and alcohol, according to police.
Angelo S. Morris of Waukegan, a documented gang member, faces a felony charge of possession of a weapon by a felon, and a misdemeanor charge of driving under the influence of drugs, according to the Lake County sheriff's office. He was also cited for illegal transportation of alcohol.
About 6 p.m. Wednesday, sheriff's deputies pulled over Morris' 2004 Pontiac Grand Prix for a traffic violation. After the vehicle stopped, Morris began "videotaping himself and the deputies with a cell phone camera," according to a statement from police.
He then drove away but continued recording, later posting the video to Facebook, police said.
"The video depicted Morris pulling out a handgun from what appeared to be his pants, while attempting to mock the sheriff's deputies who initiated the traffic stop," police said.
Detectives preserved the Facebook video as evidence, and on Thursday, an arrest warrant was issued for the 27-year-old Morris, police said.
The sheriff's Gang Task Force found Morris, still driving the Pontiac, on North Berwick Boulevard near his Waukegan home, police said. He was pulled over and "found to be driving under the influence of drugs," according to police. He no longer had the gun.
Morris, of the 1800 block of North Berwick, is being held at the Lake County Jail on a $250,000 bond, and will next appear in court June 8.
"We have zero tolerance for gang members in Lake County," Undersheriff Ray Rose said in the statement. "Especially gang members who attempt to threaten and intimidate the community and law enforcement. Street gangs do not contribute to society, they do just the opposite and create problems, we will continue going to great lengths in keeping our neighborhoods safe."