Creative Obama 'Photoshopping' getting online attention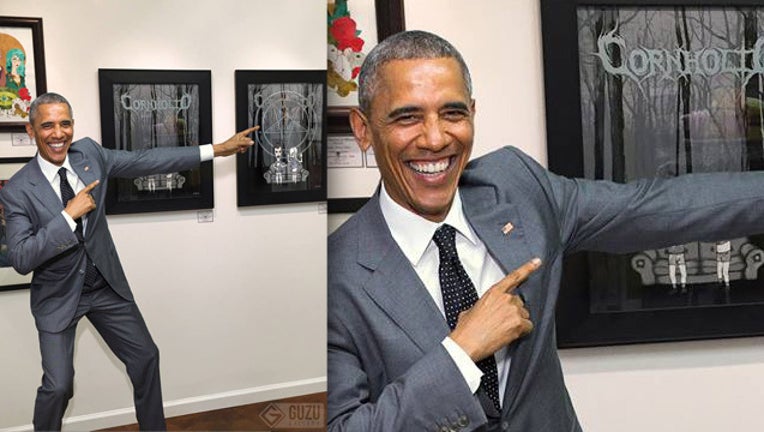 article
An Austin area art gallery gets into Obama fever.  The 'Guzu Gallery' is home to collectable art, collectible vinyl toys, art books, graphic novels, and Photoshop masters. 
Guzu Gallery Director Vincent X Torres is responsible for the altered image.  He wanted to promote his 'Half Human' series of art prints and posted the image to Guzu's Facebook page.
Reports of Obama visiting the North Lamar art gallery were coming in to FOX 7 and things didn't quite add up.
Obama's trip to Austin included a trip to Torchy's, a keynote speech at SXSW Interactive and some Democratic fundraising. 
Creator of Austin favorites King of the Hill and Office space Mike Judge, also took notice.
FOX 7 reached out to Torres and he did admit that the photo was a spoof.
President Obama is expected to leave Austin later tonight and no trips to the Guzu Gallery are on the agenda.
MORE COVERAGE...
Obama to speak at Long Center for SXSW 
POTUS stops at Torchy's Tacos with Mayor Adler
President Obama Arrives in Austin
City of Austin preparing for POTUS and SXSW
SXSW Stores and Live Events on Facebook
SXSW Music releases list of artists to perform