Families run in terror during a brawl at trampoline park as security guard pulls out gun
MOKENA, Illinois - It was a frightening afternoon for dozens of families and small children at Urban Air Adventure Park in Mokena when a security guard confronted a patron and chaos erupted. One person said his neighbor was trampled while trying to run to safety. 
 "I thought I smelt gun powder, you heard people yelling, 'Gun, gun, gun, everybody get out of the way!'" said a witness who did not want to be identified.
 
Mokena Police say the panic started after a security guard asked a patron to stop playing music inside the establishment. 
Police say the customer attacked the security guard, then "put his hands inside a bag." That's when the security guard pulled out a gun.
GET BREAKING NEWS ON THE FOX 32 NEWS APP
"Why do people have guns in a child's play place? I personally felt helpless and defenseless. If someone was walking around with a gun, how am I going to protect my family?" the witness said.
 
It's unknown what the suspect had in his bag. Police say the security guard did not fire his weapon and detained the suspect until police arrived. Meanwhile folks inside say they were absolutely terrified.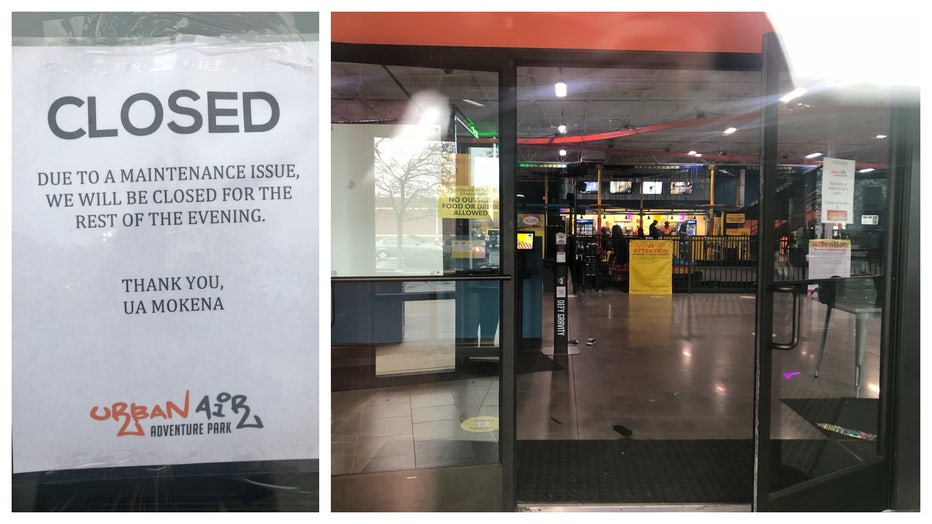 One woman said a worker opened a closet where 12 children hid during the fiasco. 
"I didn't know what was going on, I didn't know if it was an active shooter or a fight," she said. 
 
Following recent mass shootings, witnesses called the experience traumatizing. Police say there have been disturbances at the adventure park in the past but nothing like this.
 
Pending charges against the suspect include disturbance criminal trespass, battery and disorderly conduct.
 
Fox 32 News has reached out to Urban Air and has not yet received a response. A note on the door on Saturday night said the facility was closed for maintenance.