Family of late 'Crocodile Hunter' back at Animal Planet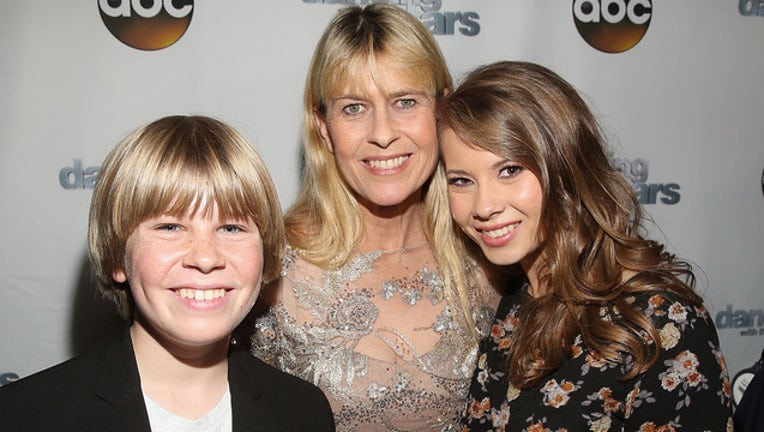 article
Crikey! The Irwin family is returning to television's Animal Planet, 11 years after the death of "The Crocodile Hunter" star and family patriarch Steve Irwin.
The network said Wednesday that Irwin's widow, Terri, and children Bindi and Robert will reappear on Animal Planet starting next year. The family has carried on Steve's conservation work in Australia, running a zoo, a wildlife preserve and supporting projects that try to save endangered animals worldwide.
"It seemed like a really good time, since we do so many things together as a family," said Terri Irwin, in an interview from Australia.
It's still not clear what form their Animal Planet work will take. The family and network are discussing several ideas for television and digital products, said Patrice Andrews, the network's general manager.
"The Crocodile Hunter" aired on Animal Planet from 1996 to 2007. Irwin's colorful personality, seeming fearlessness in wrestling dangerous animals and his Australianisms - like the expression "crikey!" - made him a favorite.
"Steve was very much the face of our channel," Andrews said. "People even today in focus groups bring up the impact of 'The Crocodile Hunter.'"
Having such defining characters is becoming tougher and tougher for cable networks. Bringing back the Irwins is part of the network's refocusing on animals, Andrews said. That may seem obvious for a network called Animal Planet, but in recent years the network drifted from that, even adopting the tagline, "Surprisingly Human."
Currently, the network's most popular series is "Dr. Jeff: Rocky Mountain Vet," with a new series focusing on animals at the Bronx Zoo also doing well.
Steve Irwin died at age 44 in September 2006 while filming an underwater scene for a television series, when a stingray's stinging barbs pierced his heart.
Since Bindi was 8 and Robert was 3 when their father died, Terri Irwin said her first responsibility was raising them. Both grew up committed to the family business and haven't been strangers to television: Bindi, now 19, won a "Dancing With the Stars" competition in 2015 and Robert, who is 14, has appeared on the "Tonight" show with Jimmy Fallon displaying animals.
"Grief is never something you get over," she said. "You don't wake up one morning and say, 'I've conquered that, now I'm moving on.' It's something that walks beside you every day. And if you can learn how to manage it and honor the person that you miss, you can take something that is incredibly sad and have some form of positivity. That's kind of what we decided to do with Steve."
Irwin said she's tried to channel some of the competitiveness that she and Steve had as a couple, trying to complete milestones on a 10-year business plan they wrote together shortly before he died.
Now they're working on projects he hadn't dreamed of, like making accommodations for camping at their zoo, she said.
"I have friends who have lost husbands and have gone off and tried different things," she said. "Nothing wrong with that. ... For us, conservation work isn't just what we do. It's who we are. It's really defined us that this is what we've dedicated our lives to."
THIS IS A BREAKING NEWS UPDATE. Check back soon for further information. AP's earlier story is below.