2 dead, several injured in crash involving Greyhound bus on I-65 in White County, Indiana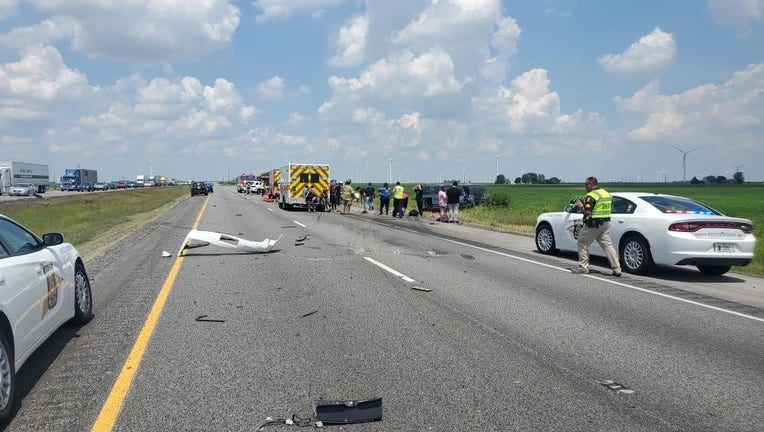 WHITE COUNTY, Ind. - Two people are dead following a crash involving a Greyhound bus and two other vehicles in White County, Indiana Friday afternoon.
The two people who died were in the same vehicle.
The crash occurred at mile-marker 189 on Interstate 65 at about 12:40 p.m.
According to preliminary information from Indiana State Police, a silver 2011 Mazda Miata, driven by Joseph Utley, 70, of Valparaiso, Ind., was traveling southbound on I-65 in the left lane near the 189 mile-marker. 
For an unknown reason, the Miata went into the right lane and sideswiped a 2011 white Chevrolet Tahoe, police said.
The Miata then went into the ditch on the west side of the southbound lanes. 
The driver of the Tahoe lost control, traveled across the median, and into the northbound lanes.
A Greyhound bus, driven by James Jones, 65, of Chicago, was traveling northbound in the left lane at the same time. 
The bus collided with the Tahoe on the passenger side. 
Both of those vehicles came to rest in the ditch on the east side of the northbound lanes, police said.
The two occupants of the Tahoe were pronounced deceased at the scene. 
Multiple passengers from the Greyhound bus were transported to nearby hospitals with non-life-threating injuries. 
One passenger from the bus was transported to a hospital in Indianapolis by helicopter. 
Police say there were approximately 50 people involved in the accident. 
The driver of the Miata was uninjured, and the driver of the bus was transported to a hospital with non-life-threating injures.