FBI adds LA and Chicago area suspects to 10 Most Wanted list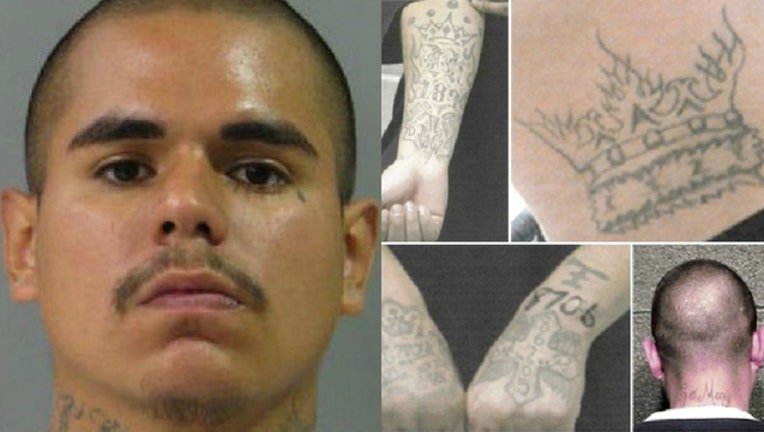 article
CHICAGO (AP) - The FBI added two men to its 10 Most Wanted Fugitives list Thursday: A Chicago-area man suspected in a teenager's 2009 killing and a Los Angeles man accused of killing his pregnant girlfriend last month.
FBI Director James Comey announced in Chicago that two people had been removed from the list that's been around since 1950, including a nearly 20-year-old case that was unlikely to generate new public tips.
Authorities offered up to $100,000 for information leading to the arrest of Luis Macedo of suburban Chicago and Philip Patrick Policarpio of Los Angeles.
Macedo, of Oak Lawn, Illinois, was charged with first-degree murder in the slaying of 15-year-old Alex Arellano, who was beaten with baseball bats, shot in the head and set on fire. Four others were quickly arrested and went on to be convicted and given lengthy prison terms, the most recent a 19-year-old Chicago man sentenced to 60 years in prison in 2013.
"We are trying to shine a very bright, very hot light on Macedo," Comey said.
Though Macedo — a suspected member of the Latin Kings street gang — hasn't been seen in years, authorities believe he is somewhere in southeastern United States or Mexico. He replaces Brenda Delgado on the list. Delgado was wanted for the killing of her ex-boyfriend's new girlfriend in Texas and arrested in Mexico last month. Delgado faces charges of capital murder and unlawful flight to avoid prosecution in connection with the September death of Dr. Kendra Hatcher, a dentist.
Policarpio, the Los Angeles fugitive added to the list, is accused of fatally shooting his live-in girlfriend Lauren Olguin after they got into an argument at a gathering at a friend's home. He was on parole for a 2001 conviction for assault with a firearm and other violations. The FBI said the 39-year-old may have traveled to Las Vegas and has previous ties to the Philippines.
"We believe — based on not only his criminal history, but what seems to be a clear propensity for violence coupled with the fact that he's on the run — that he's clearly a danger to society and needs to be caught," said FBI spokeswoman Laura Eimiller in Los Angeles.
Also off the list is Glen Stewart Godwin, who the FBI said was being sought for his 1987 escape from Folsom State Prison in California where he was serving a murder sentence. He was then arrested later in 1987 for alleged drug trafficking in Puerto Vallarta, Mexico. In 1991, he allegedly killed a fellow inmate and escaped, according to the FBI.
"We think the payoff from the publicity has diminished over time," Comey said. "That's our criteria: Can we make a difference in this case with the publicity?"
___
Associated Press writers Sophia Tareen in Chicago and Amanda Lee Myers in Los Angeles contributed to this report.