Fire erupts at Albany Park church; third fire in the neighborhood this week
CHICAGO - Heavy flames destroyed a Northwest Side church Wednesday afternoon – marking the third fire in the Albany Park area in just three days.
The series of incidents has left more questions than answers among neighbors.
"It's too much of a coincidence," said Larry Poggenburg.
Poggenburg returned to his home Wednesday evening to the sight of emergency lights and the smell of smoke.
"It's sad to see this," said Poggenburg.
Around 1:30 p.m., flames swept through the church located on the corner of Sunnyside Avenue and Spaulding Avenue.
Crews got the fire under control just before 3 p.m., but severe damage was already done to the structure.  
"There were flames coming out of where the stained glass used to be, and out of that door right over there, so it was pretty intense, lots of smoke," said Ryan Landau, who lives nearby.
DOWNLOAD THE FOX 32 CHICAGO APP FOR BREAKING NEWS ALERTS
The building's listed owner is Chicago Milal Church, but neighbors say it's gone unused for years.
"There's been a lot of discussion in the neighborhood about how it would be redeveloped. The current owner wanted to put some very large apartment building there that most people in the neighborhood are opposed to," said Landau.
Last year, a demolition permit was filed for the building. It is currently listed on the Chicago Department of Planning and Development's 'Demolition Delay Hold List.'
FOX 32 Chicago made attempts to reach the listed property owner, but their phone number is disconnected.
Most recently, the building was listed for sale on Redfin in December 2021. According to that online listing, this property is under contract.
This is the third fire in the area in just three days.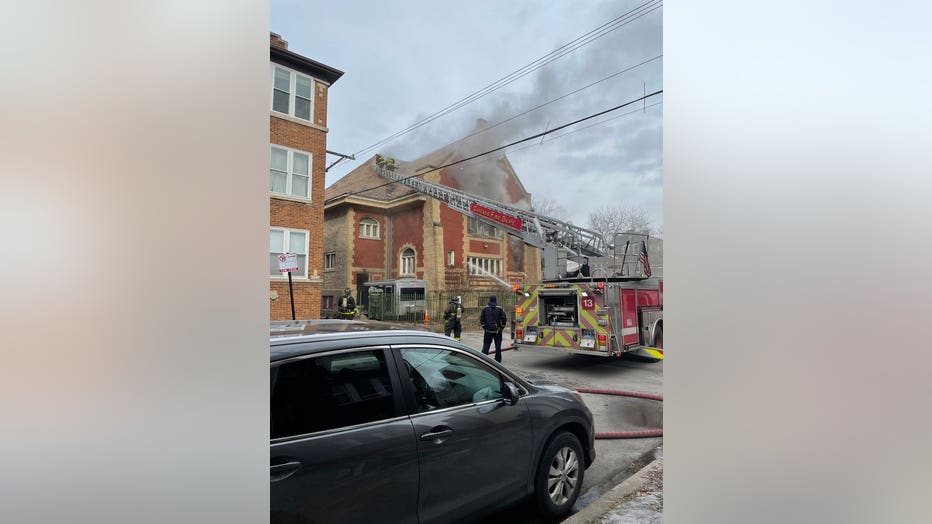 Fire at church in Albany Park | Credit: CFD
Early Monday morning, a massive fire destroyed an apartment building and two businesses – Twisted Hippo Taproom and Eatery and Ultimate Ninjas Chicago – in the 4300 block of North Richmond Street.
A 60-year-old man who lived in the apartment building was taken to Swedish Covenant Hospital where he was listed in serious condition, fire officials said.
Then, on Tuesday, a vacant building caught on fire in the 3300 block of West Cullom Avenue, injuring a firefighter.
"I hope that there's an end to this. That whatever is going on is discovered and followed and terminated from happening anymore," said Poggenburg. "I don't like to see this."
A spokesman with the Chicago Fire Department said the Office of Fire Investigations (OFI) is looking into the cause of the church fire and "any evidence that would show a link to other area fires."
Meanwhile, unsafe conditions at the location of the fire near Montrose Avenue and Richmond Street have kept investigators from examining the site, officials said Tuesday.