Florida sheriff: Mom shot, killed by neighbor amid long-standing feud over her children
OCALA, Fla. - Update (June 6): Late Tuesday, the Marion County Sheriff's Office said it had arrested Susan Lorincz for manslaughter, among other charges, in the death of Ajike "AJ" Owens. Marion County Sheriff Billy Woods said it was not a justifiable shooting under Florida's "Stand Your Ground" law. "It was simply a killing," he said.
Original story
A Florida mom was shot and killed over the weekend after confronting a neighbor who reportedly confronted the woman's children amid a long-standing "neighborhood feud," Marion County Sheriff Billy Woods told reporters on Monday.
Deputies responded to an initial trespassing call late Friday at a residence on SW 108th Lane in Ocala, Florida. Once deputies arrived, they found a woman – later identified as Ajike "AJ" Shantrell Owens – with gunshot wounds. Owens was transported to the hospital, where she died.
Sheriff Woods said it appears that there has been a long-standing feud between Owens and the neighbor, who has not been identified. That neighbor has claimed that the shooting was self-defense under Florida's "Stand Your Ground law," Sheriff Woods said. That neighbor has not been arrested or charged with a crime.
News conference: Sheriff Billy Woods discusses weekend shooting
"We know that this has basically been a neighborhood feud over time," Woods said. He said the sheriff's office had received about a half-dozen 911 calls from Owns and the neighbor.
Sheriff Woods said prior to the shooting there was an incident between the neighbor and Owens' children. Wood said the specifics of that incident – whether it was an argument, a fight, or something else – was still under investigation, but it appears that the neighbor threw a pair of skates toward the children, and a child was hit.
RELATED: Florida's 'Stand Your Ground' law and when it applies
After the incident, one of the children went back home and told their mom what happened. The mom then went over to the neighbor to confront her about what happened, which ended with the neighbor shooting Owens through the front door.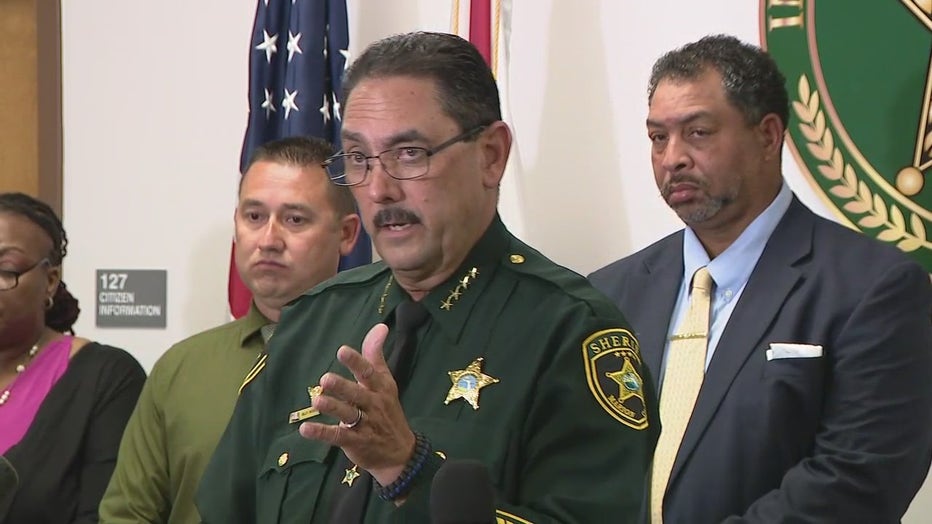 Sheriff Woods said the interaction between the neighbor and Owens was "aggressive," possibly involving banging on doors and/or threats being made. However, he said those details were still being investigated.
At that time, multiple shots were fired through the door, striking Owens.
Sheriff Woods said they are interviewing the children who may have been witnesses to the shooting of their mother for a better idea of what happened. Deputies are also working to learn whether security cameras in the area may have captured the shooting.
Sheriff Woods said anyone who saw the shooting or heard anything should contact MCSO's detectives. 
"I wish our shooter would have called us instead of taking action into her own hands. I wish Mrs. Owens would have called in the hopes we could've never gotten to the point at which we are here today," Woods said, adding that he also feels for the children, who lost their mom.
According to Florida Statutes, "a person is justified in using or threatening to use force, except deadly force, against another when and to the extent that the person reasonably believes that such conduct is necessary to defend himself or herself or another against the other's imminent use of unlawful force."
Renowned civil rights attorney Ben Crump and attorney Anthony D. Thomas have been retained by the Owens Family. They held a news conference at 3 p.m. to demand that the alleged shooter be identified and arrested. 
Crump's office said in a news release that prior to the shooting, the neighbor yelled at the Owens' children "to get off her land" and yelled racial slurs at them. 
News conference: Family, and friends of "AJ" Owens discuss shooting
During a news conference at New St. John Missionary Baptist Church, attorney Anthony Thomas opened with remarks before introducing family members and friends of Owens as well as community leaders.  
"We're going to demand justice from Sheriff Woods, because he has given me his promise that he was going to do his job and he was going to provide the most professional service that he could with he and his deputies, and we're going to hold him to that," Thomas said. "We need an arrest." 
Pamela Dias, the victim's mother, said her daughter was full of life and that, "to know her is to know her kids were everything."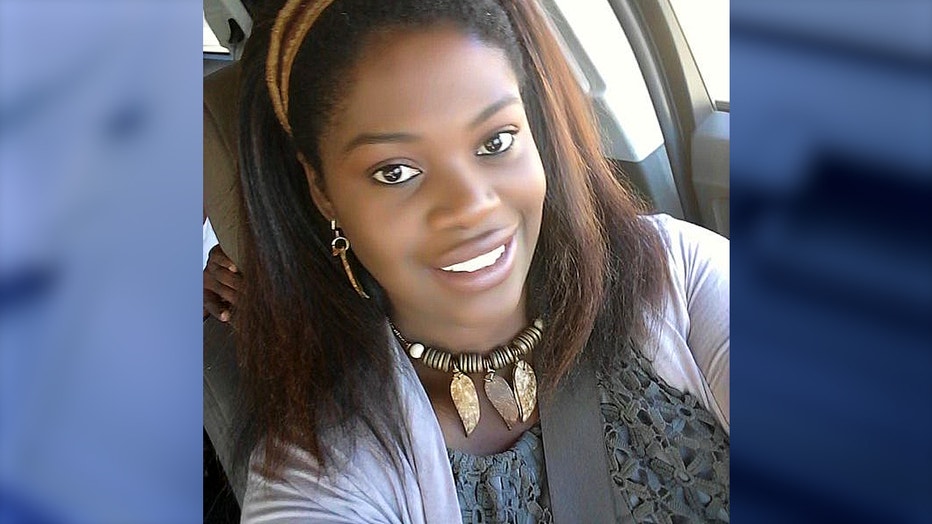 Ajike "AJ" Shantrell Owens [Credit: Family handout]
She said her daughter "had no weapon" and "posed no imminent threat to anyone" when she was shot and killed in front of her daughter's nine-year-old son who was standing next to his mother on their neighbor's front porch.
"It was a village that raised my baby girl, and I am grateful to each and every one. It is now going to take a village for these children. What I'm asking is for justice, justice for my daughter, Ajike Shantrell Owens."
Bishop J. David Stockton III, president of the Marion County Chapter of the NAACP, then spoke, also demanding a fair and transparent investigation into the shooting.
"I truly wish that we were here for different circumstances, but what we're here for is a sign of the time and the sign of living in Florida," he said. "The truth is, we've gotten to the point where Black folks are almost living in a day where we're afraid to go outside. We are in a constant state of fear."
Stockton also pressed for urgency in the investigation.
"We also seek accountability and justice and the same ferociousness when it's one of us. We'd like to see it right now. I stand here today, one more time to share, we support the sheriff in doing what's right; we just request that he do it right now."
Jerone A. Gamble, the first vice president of the Marion County Chapter of the NAACP, said the shooting spoke to the prevalence of guns in Florida.
"It's going to be the 'wild, wild west' in Florida," he said. "They're going to kill us, right and left, unless something is done about this situation."
Owens' children are between the ages of four and 13.  There is a vigil planned in her honor on Thursday.