Woman accused of murder claims lover tried to kill her, but his dying words contradict her
MONROE COUNTY - A Florida woman accused of fatally shooting her boyfriend over the weekend told investigators he tried to kill her, but the victim's dying words tell another story.
Brittany Holbrook, 33, allegedly gunned down Tyler Nulisch, 30, early Saturday morning after an argument, according to an arrest affidavit obtained by Fox News Digital.
The couple's roommate, Jordan Kinn, called 911 shortly before 3 a.m. and said Nulisch was "in bad shape, he's hurt real bad" and there was a lot of blood, the affidavit says.
Deputies and detectives with the Monroe County Sheriff's Office responded to the home on Avenue F in Key West and found Holbrook cradling Nulisch on the living room floor as he bled profusely.
A 9mm Smith & Wesson and a spent shell casing were on the floor near a dog kennel, the police report says.
Nulisch had lost consciousness but was still breathing when he was rushed to the Lower Keys Medical Center, where he was pronounced dead at 3:46 a.m. He suffered a gunshot wound to his lower left back.
SUBSCRIBE TO FOX 32 CHICAGO ON YOUTUBE
Kinn told investigators he was awoken in the middle of the night by the couple fighting.
When he heard Holbrook scream, he ran into the living room and found Nulisch lying in a pool of blood and asked him what happened.
"That b---- shot me in the back," the victim allegedly replied, as Holbrook stood nearby and said nothing.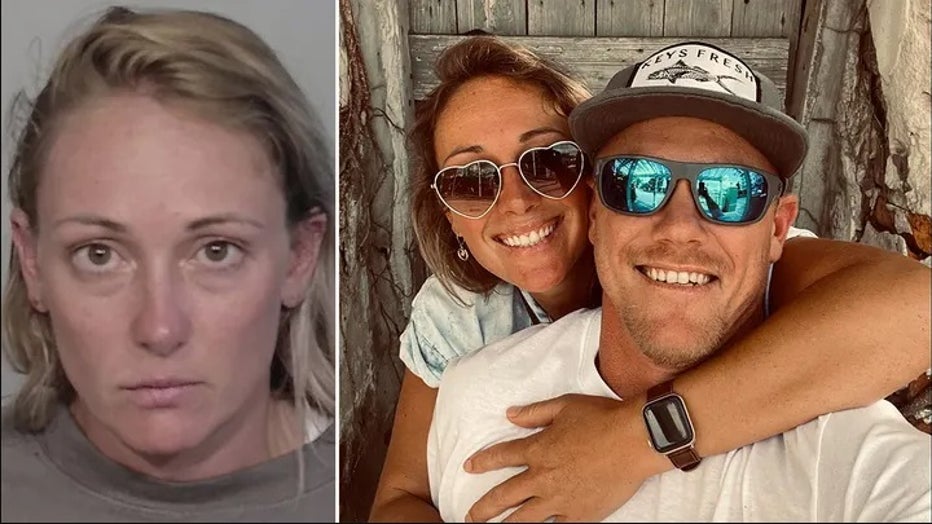 Florida woman Brittany Holbrook is accused of murdering her boyfriend, Tyler Nulisch, June 17, 2023. (Monroe County Sheriffs Office/Facebook)
Holbrook told detectives "there was a gap in her memory," the affidavit says. After she and Nulisch went to sleep, her next recollection was holding her blood-soaked boyfriend in her arms.
She denied that Nulisch had made any statements to the roommate but in later interviews, she allegedly recalled more details, according to the document.
"She stated she remembers Nulisch leaving their bed and walking to the bathroom. When he returned from the bathroom, he was like a different person and began to attack her," investigators wrote. "While she was being held against the wall, she described Nulisch squeezing her throat with his hands hard enough that it restricted her breathing."
She said she thought her boyfriend was trying to kill her.
However, she had no marks around her throat or broken blood vessels on the white part of her eyes, which would be expected if he had strangled her, investigators noted in the report.
Holbrook said she could not remember how she got away from Nulisch but denied firing a gun. The roommate told police that Holbrook owned a pistol, which she kept in the house.
Holbrook is charged with one count of premeditated murder and is being held on a $750,000 bond at the Monroe County Sheriff's Office, records show.
The pair had been dating for about nine months and shared a love of diving and fishing, according to their Facebook profiles.
A lawyer for Holbrook could not immediately be identified.