Friends of the Parks outlines Lucas museum settlement options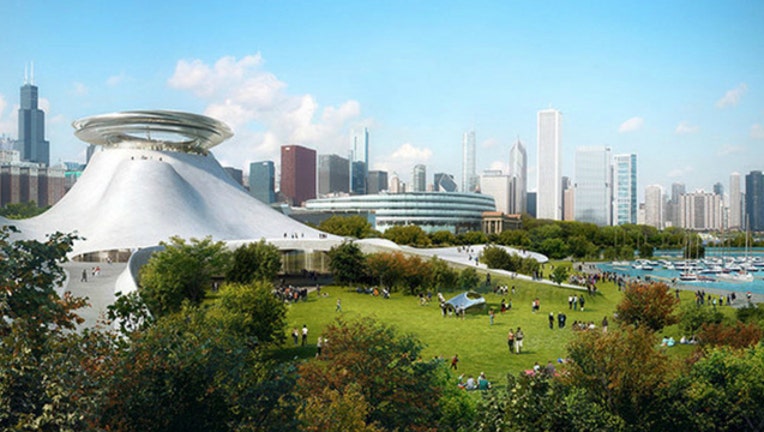 CHICAGO (AP) - A group suing to block construction of "Star Wars" filmmaker George Lucas' museum on Chicago's lakefront is willing to negotiate a settlement to allow the project to proceed, but only under several conditions.
Friends of the Parks released a memo outlining stipulations under which it would settle its lawsuit, including a legally-binding promise from the city to protect the lakefront from development for the next century. The memo says the group also wants 5 percent of the museum's revenues allocated to a parks fund for improvements in areas lacking funding, The Chicago Tribune reported Saturday (http://trib.in/1UIhJoR ).
Friends of the Park Executive Director Juanita Irizarry sent the memo to group members Thursday, responding to some in her organization who want to be more flexible to the Lucas project. The group wants to discuss the conditions outlined in the memo with the mayor's office.
Lucas wants the museum, which would showcase his art collection, on Lake Michigan's shores near downtown Chicago. The museum's construction was scheduled to begin this spring, but the group's lawsuit contending the 300,000-square-foot project violates laws restricting the area's development put construction on hold.
Last month, the city of Chicago asked the 7th U.S. Circuit Court of Appeals to dismiss the lawsuit. A ruling is pending.
The original site planned for the museum is a parking lot near Soldier Field, home of the Chicago Bears. However, the city is considering demolishing a portion of the McCormick Place convention complex as a backup. That location would also put the museum by the lake.
However, the parks group says in its memo that it would be open to having the museum at McCormick Place, but not the location near Solider Field. Instead, the group wants the parking lot near the stadium to be converted into a green event space. The group also wants a significant number of jobs at the museum to be given to low-income and minority residents.
As the project continues to be litigated, San Francisco officials are trying to persuade Lucas to build his museum there instead. Lucas picked Chicago over San Francisco when he was deciding on a location.
The museum is expected to cost $400 million to build.