Grateful Dead insider auctions rare items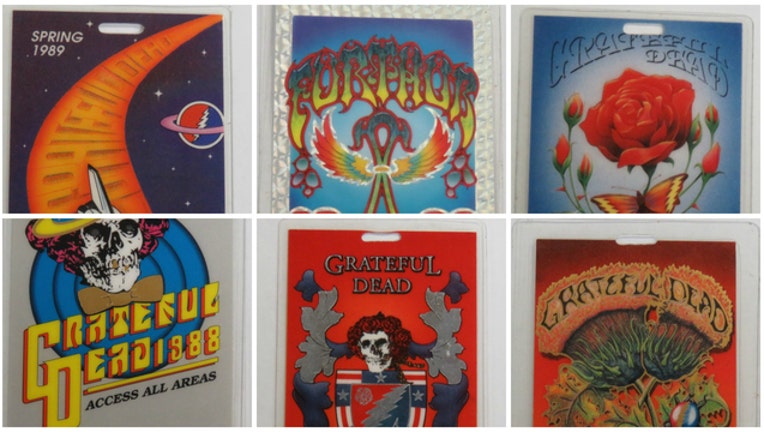 article
RENO, Nev. (AP) - The widow of the Grateful Dead's longtime lawyer is auctioning off treasures from their long strange trip with the psychedelic rock-and-roll band.
Hal and Jesse Kant's memorabilia collection includes signed artwork by the band's late leader, Jerry Garcia, and backstage passes from concerts spanning 30 years.
The Reno Gazette-Journal reports some of the items are expected to go for as much as $100,000 when they're sold online by a Reno art gallery and auction house from Nov. 22 through Dec. 9.
In addition to the Dead, Hal Kant represented a number of musicians dating to the 1960s, including Janis Joplin and Sonny and Cher.
The Kants moved to Reno during the 1980s. He died in 2006. She's putting the memorabilia up for sale through Stremmel Auctions.
Highlights among the more than 100 items include a colorful set of banners used as the backdrops for 88 concerts around the world and a poster from a Lake Tahoe show in 1968, when tickets cost $3.50 at the door.
Jesse Kant says she's keeping some valuables with personal meaning, including letters from the band. But she's parting with a wedding invitation from Garcia and his wife, Deborah Koons, as well as a framed, dried rose from the couple's wedding the year before his 1995 death.
She's also selling her living room replica of the Dead's conference table, complete with hand-carved skulls and ornate "GD" signatures on each chair.
"I spent my time very happily and grateful with all of these items," and it was time to let someone else enjoy them, she told the Gazette-Journal.
Hudson Stremmel, gallery spokesman, said Hal Kant was responsible for keeping the band's copyrights and introduced Garcia to the makers of Ben and Jerry's ice cream, which resulted in one of their most popular flavors, Cherry Garcia.
The collection is one of the rarest the auctioneer family has seen, Stremmel said. The business typically deals with high-end estate sales and bankruptcy cases.
"It's amazing. It's kind of a story of his life that hasn't been told," Stremmel said of Hal Kant.
Jesse Kant, who recently moved to the Pacific Northwest, said the band members were close to her husband, an avid skier and World Series of Poker champion. She said they used to cheer him on during card games and gave him many one-of-a-kind tokens of gratitude, including a letterman jacket with embroidered stitching reading, "Many Thanks from Grateful Dead, Hal."
Besides the jacket, the auction includes two "LimitDead Edition" golf bags, one signed by Alice Cooper, and two sets of unused Grateful Dead skis, both decorated with the trademark skulls and roses that often appear on their official merchandise.
Jesse Kant said her favorite Grateful Dead performance was outside the Great Pyramid in Egypt in 1978.
"People actually came to the show on camels; some people sat on their camels and watched," Kant said. "And that night, there was an eclipse of the moon, and the children were running through the streets banging pots and pans trying to scare away the shadows. By far, my favorite show."
She said she's often wondered why the band was so loved.
"They're such a strange and interesting phenomenon," she said. "It was during the time where drugs were a very large part of that culture. The music was always different, they didn't play a set routine, but I really couldn't tell you why Grateful Dead fans are fans. It's a very personal thing."
___
Information from: Reno Gazette-Journal, http://www.rgj.com