Homeless shelters packed amid deep-freeze: 'It's life and death out there'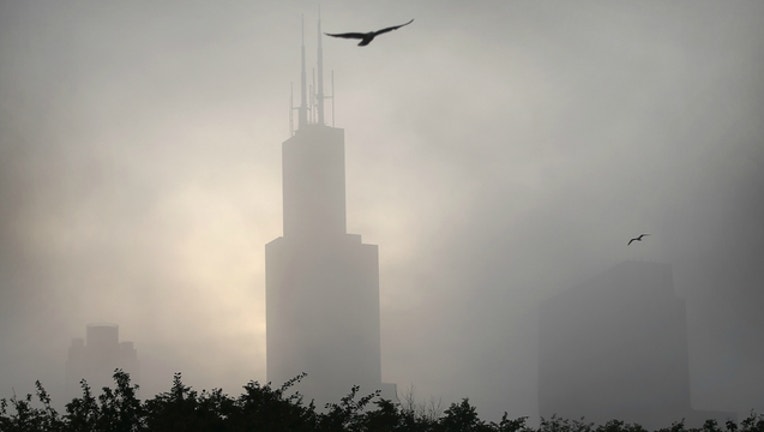 article
SUN-TIMES MEDIA WIRE - As he entered his third hour of panhandling on a Kennedy Expressway overpass Wednesday afternoon, Devin Tolman set down his cup of coins and stripped away the two pairs of gloves he was wearing, rubbing his hands together and jumping in place.
"It's not so bad now when you're out in the sun," he said as subzero winds whipped away puffs of breath. "Just keep moving, keep that blood moving."
Tolman is one of an estimated 82,000 people in Chicago without a regular, warm place to stay as the city slogs through its first major cold snap this winter — a treacherous time for the homeless, when frostbite can take hold in minutes amid numbing windchills, the Chicago Sun-Times is reporting. Three people in Cook County have died due to cold exposure since mid-November, including a 62-year-old man found in a vehicle Tuesday morning in the Austin neighborhood.
With temperatures not expected to eclipse the mid-teens until after New Year's Day, Chicago's homeless shelters have become packed with people looking for a respite from the extreme conditions.
"It's life and death out there," said Stephen Welch, director of development at the Pacific Garden Mission in Pilsen. "I talked to a couple of guys who thought they were going to die today. They could barely move.
"We've had a very busy last couple of days," Welch said. "We're not turning anyone away."
On a typical night, between 700 and 800 people take refuge at the Pacific Garden Mission. That number was already approaching 900 on Wednesday afternoon, and it can hit up to 1,200 on the coldest nights of the season.
"It'll go up as people are forced out of abandoned buildings and hospitals," Welch said. "We're always in a staging mode because we know the bad weather will come at some point."
Cynthia Northington, program director at the 342-bed Franciscan House, said she and fellow organizers at the West Side shelter are "glued" to weather forecasts each night.
"Just so we can determine how many people we need to be ready for the next day," Northington said. "It has been tremendously busy."
The Franciscan House typically opens in the evening, but they've kept their doors open during the day this week as a warming center. Still, many people on the street try to "brave the elements," Northington said.
"Many are dealing with mental health issues," she said. "They need to know that these aren't elements that you can brave."
Northington said that while shelters and government programs provide relief to the homeless, the main problem is a lack of affordable housing.
Community activist Andrew Holmes tried to raise awareness of the issue early Wednesday by sleeping outside in the frigid conditions at a South Side homeless encampment overlooking the Dan Ryan Expressway near Roosevelt and Desplaines.
"There's not enough help being done, especially during the winter time," Holmes said. He weathered windchills nearly 20 degrees below zero between 8 p.m. Tuesday and 6 a.m. Wednesday.
Holmes called for more homeless shelters in Chicago, equipped with nurses, counselors and job training facilities on-site.
"We had a rodent problem here in the city of Chicago and there was enough funds to get the rodents off the street. Let's try to get the homeless off the street too," he said.
Thursday and Friday are expected to bring a relative heat wave as temperatures rise to 16 degrees with lows in the single digits, according to the National Weather Service, which is warning residents in northern Illinois and northwest Indiana of an "excessive cold risk" at least through New Year's Day.
Several warming centers are dedicated for residents to find refuge from the cold. The warming centers are open between 9 a.m. and 5 p.m. Monday through Friday at:
• Englewood Center, 1140 W. 79th St.
• Garfield Center (24 hours), 10 S. Kedzie Ave.
• King Center, 4314 S. Cottage Grove Ave.
• North Area, 845 W. Wilson Ave.
• South Chicago, 8650 S. Commercial Ave.
• Trina Davila, 4312 W. North Ave.
To request a well-being check for someone who may be suffering from the cold, report inadequate heat in a residential building or connect to shelter and supportive services, call 3-1-1.
For information on Cook County warming centers outside of Chicago, people should call the Cook County Department of Homeland Security's Duty Desk at (312) 603-8185.