Illinois budget fight erodes programs helping at risk teens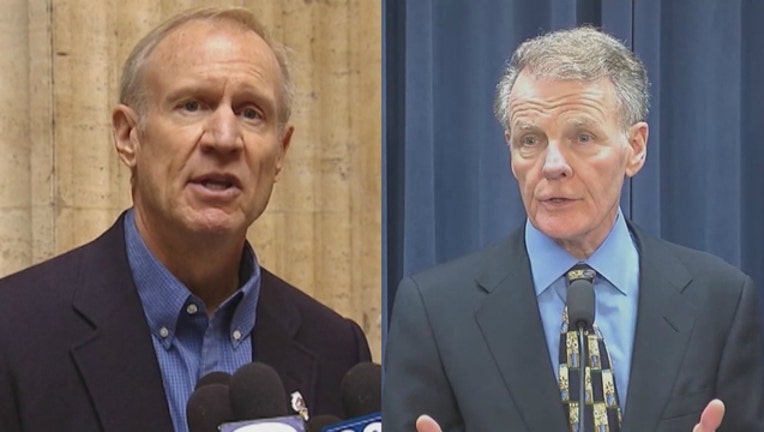 article
ROCKFORD, Ill. (AP) - After a rash of armed robberies and carjackings startled Rockford residents this year, police recognized a few teenagers among those arrested in an ensuing crackdown.
The youths had been enrolled in a state-funded program called Redeploy Illinois, which is almost universally praised as an alternative to jail that diverts troubled youths from further crime. But due to a loss of funding in Illinois' unprecedented budget impasse, a Rockford area nonprofit ended its program in October, leaving some 40 juveniles without the one-on-one attention they'd been receiving.
Within months, police say, some of those teens were re-arrested, including after 14 robberies on one January day.
"When all these social service agencies are cut, the only public agency left to pick up the pieces is law enforcement. We're not equipped to do that," said Pat Hoey, Rockford's assistant deputy police chief. "You can't arrest your way out of youth violence crime issues."
Redeploy is just one example in which the gridlock between first-term Republican Gov. Bruce Rauner and Democrats controlling the Legislature is eroding programs to keep youth away from criminal and child welfare systems, along with other human services.
Of Illinois' 102 counties, 45 had Redeploy working with roughly 700 juveniles annually — a more than decade-long program that officials boasted helped drastically cut youth prison populations. Nearly $5 million in state funds went to Redeploy programs statewide, and the state even revamped the program's website recently, but nothing has been paid since last summer, leading to more than 100 teens being cut off, according to state data.
Last week, lawmakers adjourned session without a budget for the current fiscal year or the one that starts July 1, meaning more uncertainty.
Mary Ellen Commare, executive director of Youth Services Network, a nonprofit which gets $306,000 for Redeploy around Rockford, said she gets calls daily from families since scaling back juvenile services like Redeploy.
"It puts more kids on the street which puts them at danger and puts other people at risk of being victims," she said.
Four of Illinois' 13 regional Redeploy programs — based in Winnebago, Montgomery, Lee and Macon counties — have closed their doors, with others scaling back or shuffling juveniles into other programs. But Redeploy organizers say the impact is even greater because of staff layoffs and many remaining programs refusing to take new juveniles.
Also, Illinois' system to provide emergency help to around 7,000 youths, like runaways, is disintegrating in some of the poorest and highest-crime areas, including Chicago's Englewood neighborhood, where a program serving 70 teenagers closed this year because of halted state funding.
The cutbacks come as Illinois has made noticeable gains in addressing troubled juvenile populations, including reducing the number of incarcerated youth to less than 500 from a peak of over 3,000 in 2000.
The state Department of Human Services blamed the closures on "the Democratic majority's failure to pass a balanced budget." Democrats claim the pro-business reforms Rauner demands before approving any budget would hurt the middle class.
The Rauner administration's public safety director, Rodger Heaton, called Redeploy important but said he hadn't seen data to suggest the cutbacks "are associated with any spike in crime."
Redeploy gives judges a community-based option instead of prison for juveniles ages 13 to 18 who commit less serious crimes; recent research has shown incarceration is less effective. It's also cheaper: $5,500 versus $111,000 annually to imprison. The idea is to individually address issues, like trauma, with counseling, mentorship and education. Teens graduate if they meet goals, such as finishing substance abuse treatment.
In Rockford, authorities and service providers declined to name former Redeploy teens who were arrested because they're juveniles.
Families of other youths who've finished the program say it put the kids back on track, such as Cynthia Graceffa, who credits Redeploy with saving her son when he was "out of control."
She said her husband's death and losing a job left her ill equipped to intervene as her son Philip started down the wrong path: A reckless decision to play with a gas left severe burns on his left leg. His later troubles included breaking into a school at night, stealing a car and selling prescription medication, which led to a short jail sentence.
Through Redeploy, he was assigned a case manager who'd contact him daily, "like a big sister," helping him with homework and rides. Once, he was so angry he went to his mother's ex-boyfriend's house ready to fight, but first called his case manager.
"She told me to walk away," Philip, now 18, said. "She talked me out of doing something wrong."
He said because since graduating from the program, he has a fast food job, is working on his high school equivalency and dreams of being a firefighter.
Some programs now without state money have sought private funding. The United Way awarded money for about five Redeploy teens in Rockford, though program officials say restarting won't be easy. The teens were making improvements when the program closed, news that left some in tears.
"Those kids have to trust us again," administrator Sue Rader said. "We have let them down."
__
Follow Sophia Tareen at http://twitter.com/sophiatareen