Illinois department where officer was killed names new chief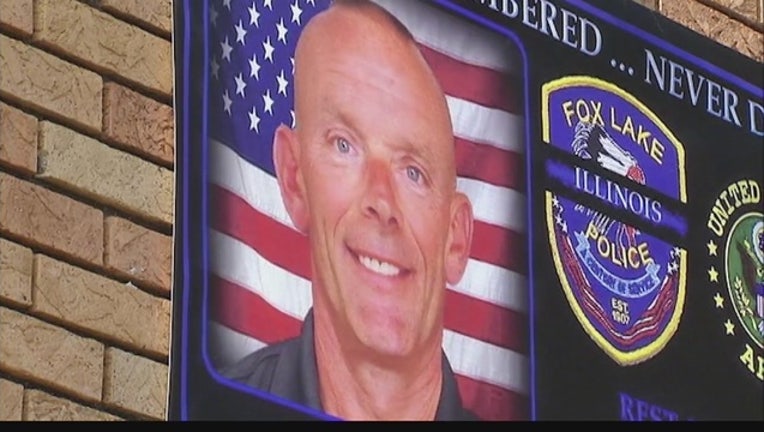 FOX LAKE, Ill. (AP) — As the manhunt continues for the three suspects in the shooting death of a suburban Chicago police lieutenant, the village has named a new interim chief and deputy chief to head the grieving department that has been without a permanent chief since last month.
The Lake County News-Sun (http://trib.in/1hNoXf6) reports that the appointments follow last month's retirement of Fox Lake Police Chief Michael Behan. Behan's retirement came days after he was put on paid administrative leave during an investigation of an altercation between an officer and a man arrested last year. Since then, a Fox Lake police lieutenant has been leading the department. The new interim chief is Lake County Sheriff's Office Deputy Chief Michael Keller and the interim deputy chief is Sgt. Scot Kurek of the sheriff's department.
Though officials said the interim appointments had nothing to do with the ongoing investigation into the slaying of Lt. Charles Joseph Gliniewicz, they said that given all the uncertainty surrounding the investigation into the former chief and the officers' grief over the death of a beloved colleague, it made sense to bring in new leaders.
"Given Tuesday morning's tragedy, they wanted to bring in seasoned leadership," said Dave Bayless, a spokesman for the village.
Fox Lake Mayor Donny Schmit agreed.
"As we mourn the loss of Lieutenant Gliniewicz, we need to enable the members of the police department time to recover and heal from the impact of the tragedy that felled their comrade and friend," he said in a statement. "We are also mindful of our obligation to provide our police officers with strong leadership so that the department can continue to function at an optimal level and provide critical services to our community even during this very difficult time."
Lake County Sheriff's Detective Christopher Covelli said appointments would not affect the investigation of Gliniewicz's death. While investigators from various departments are part of the Lake County Major Crimes Task Force, which is leading the investigation, Covelli said neither Keller nor Kurek were involved.
"The temporary appointments had nothing to do with the investigation," Covelli said. "It's completely, 100 percent separate."