Illinois political leaders may meet on budget next month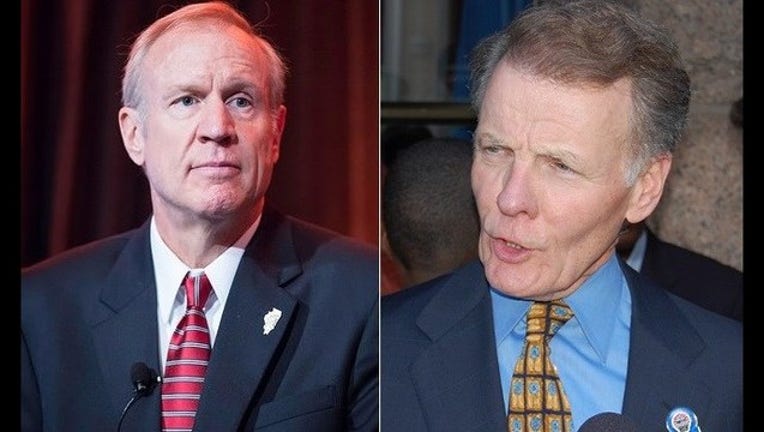 article
SPRINGFIELD, Ill. (AP) — A meeting between Gov. Bruce Rauner and legislative leaders to discuss the four-month-old budget impasse could occur next month — and in public.
Several government-reform groups invited Republican Rauner and leaders of the General Assembly — including Democrats Michael Madigan, the House Speaker, and John Cullerton, president of the Senate — attempting to bring the two sides together. Later, the Union League Club of Chicago offered space on Nov. 18.
Late Friday, Rauner wrote to the leaders and acknowledged he's free, but would host the meeting in his office and make provisions, like live-streaming, for it to be open.
"While we appreciate the advocacy groups' desire to be involved, we will pick up the organization of the meeting from here," Rauner wrote.
Rauner and the Democrats have been at odds over a budget which should have taken effect July 1. The first-year governor wants changes to the business and political climates, such as tighter workers' compensation rules and term limits for officeholders — what he calls his "turnaround agenda." Democrats want more revenue, mixed with cuts, to provide for vital services, and say Rauner shouldn't hold up the spending plan over non-budget issues.
"Over four months, it's become clear that there are not enough votes to pass a tax increase in the General Assembly without also enacting much-needed structural reforms," Rauner wrote. "In order to solve this budget impasse, we must come together to agree on a package of structural reforms that can save taxpayers billions alongside a balanced budget."
The governor said he would circulate an agenda for a Nov. 18 meeting at his offices in Chicago or Springfield.
Both Republican leaders said they'll be there. Spokesmen said Madigan and Cullerton were willing to attend but wary of the agenda.
Cullerton spokeswoman Rikeesha Phelon said there's hope for a breakthrough "provided the plan comes to fruition, everybody attends and there's a willingness to actually work on a resolution. A lot of conditions need to actually come in line before that happens."
One of those is the items up for discussion. If Rauner isn't willing to budge from his turnaround agenda, Democrats likely won't be willing to deal.
"The most important thing is to find out what he's willing to discuss," Madigan spokesman Steve Brown said.
Phelon said the five leaders haven't been in a meeting together since late May.
Rauner and lawmakers saw their chance when about half a dozen good-government groups contacted them this week. They include the Better Government Association, the League of Women Voters of Illinois and the Illinois Campaign for Political Reform. According to the groups, Madigan agreed to a meeting after the letter was issued on Tuesday and asked the meeting be public.
"The objective is to get them all together to talk," said Susan Garrett, chairwoman of the Campaign for Political Reform.
___
Tareen reported from Chicago.