In Pa., Sanders offers mixed signals on approach to Clinton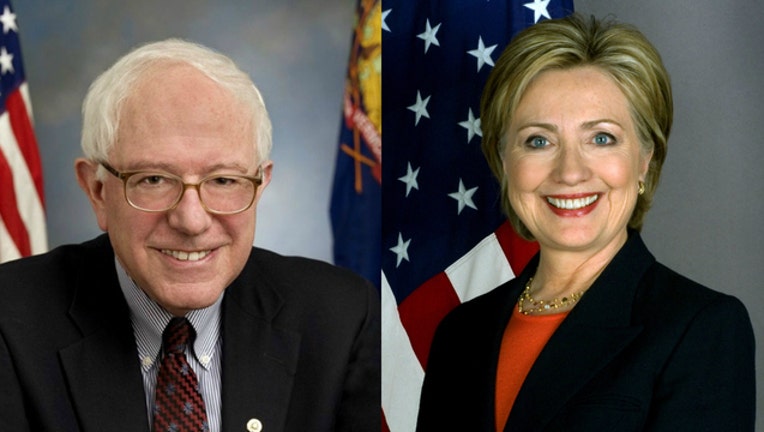 article
GETTYSBURG, Pa. (AP) - Bernie Sanders is sending mixed signals on whether he will persist in his pointed critique of Hillary Clinton's record as some Democrats urge the party to coalesce around the former secretary of state.
Sanders largely gave Clinton a pass at a town hall meeting in Gettysburg on Friday, except by implication, but later devoted a section of his speech at Millersville University on Friday night to their differences.
Sanders noted that Clinton had benefited from super PACs and had received lucrative speaking fees from Wall Street banks after departing the State Department.
"It's not good enough to talk the talk, you've got to walk the walk," Sanders said.
He also pointed to her vote in favor of the Iraq war, her resistance to a federal $15 minimum wage and her support for fracking.
A day earlier, Sanders invoked Clinton's acceptance of the $200,000-plus in speaking fees from Wall Street firms, urging his opponent to release transcripts of the addresses. The Vermont senator also reiterated his differences with Clinton over fracking, the use of super PACs, trade deals and the Iraq war, which he opposed, as the two campaign for the primaries Tuesday in Pennsylvania and four other states.
Clinton has been more muted in her assessment of Sanders since she won a convincing victory in her home state of New York. She briefly mentioned his handling of gun control at an event Friday in Pennsylvania, as she did a day earlier with family members of victims of the 2012 Sandy Hook school shooting in Connecticut.
"I voted against it," she said of a bill to protect gun-makers from legal liability. "My opponent, Senator Sanders voted for it." She said the bill "has given a really free hand to gunmakers and sellers." But on both occasions she resisted wading deeply into his record.
Clinton's event in the Philadelphia suburbs was focused on ensuring equal pay for women. She was joined by Lilly Ledbetter, who inspired the namesake fair pay law signed by President Barack Obama that aimed to make it easier for women to sue over wage discrimination.
The Jenkintown event offered a glimpse of how Clinton may seek to appeal to suburban women whose votes could be up for grabs in a general election against Republican Donald Trump or Ted Cruz. She spoke of online bullying of women and said she would expect "insults, derogatory comments" if she's the Democratic nominee.
Of Trump, she said: "It isn't really about me. And I'm not going to respond to what he says about me. I'm going to respond to what he has said about women in general."
Pennsylvania offers the biggest prize in Tuesday's primaries and has been the focus of the Clinton and Sanders campaigns following her win in New York. Both candidates are also vying for delegates who will be awarded Tuesday in primaries in Maryland, Connecticut, Rhode Island and Delaware.
Sanders took a daylong break in Vermont after his New York defeat, raising speculation he might be more restrained in discussing Clinton's record.
Clinton's campaign has said Sanders could hurt the party's ability to unite against the eventual Republican nominee.
"I do think it is time to tone down some of the rhetoric and the harshness of those disagreements," said former Rep. Allyson Schwartz of Pennsylvania, a longtime Clinton supporter. Schwartz said Clinton is already focused on what unites Democrats.
Clinton has deep ties to Pennsylvania. Her grandfather worked in a lace mill in Scranton, where she campaigned Friday, and her father grew up there. Clinton stopped by a Scranton restaurant Friday night along with her brothers, Hugh and Tony Rodham, and later rallied 1,200 supporters in nearby Dunmore.
Clinton leads Sanders 1,428-1,153 in delegates won in primaries and caucuses. Clinton also has the support of more than 500 superdelegates, according to a count by The Associated Press, and when those Democratic officials and elected leaders are included, Clinton's lead grows to 1,930-1,191. It takes 2,383 to clinch the nomination.
Despite those daunting odds, Sanders supporters did not seem down about his chances. "I don't think it's safe to say it's over," Ronnie Harvey, 29, a cultural center manager from Tunkhannock, said a day earlier in Scranton. "I think it's safe to say that he's going to need a real strong showing in Pennsylvania."
And Marion Somarelli, 48, of Lake Wallenpaupack, said she hopes Sanders runs as an independent or on the Green Party ticket if he doesn't get the Democratic nod. "All of the people following him now will follow him over," she said. Somarelli said she won't vote for Clinton under any circumstances, "not after what she's been pulling. She flip-flops on the issues."
__
Thomas reported from Jenkintown, Pennsylvania.
__
Follow Ken Thomas at https://www.twitter.com/kthomasDC and Michael Rubinkam at: https://www.twitter.com/michaelrubinkam