Jesse Jackson Jr. completes prison term; wife to prison next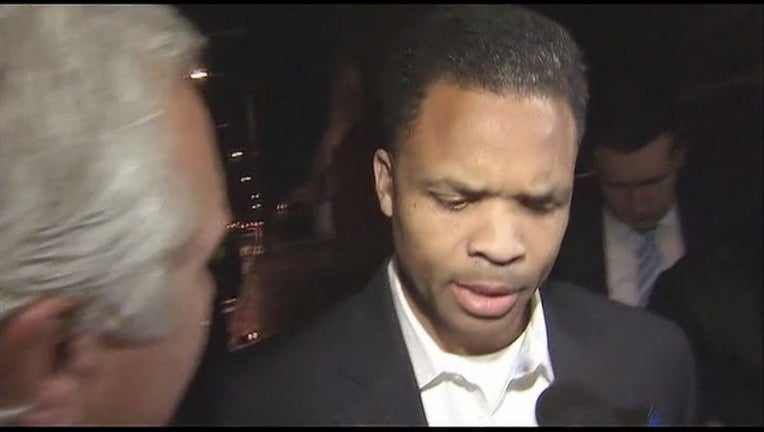 article
CHICAGO (AP) — Former Congressman Jesse Jackson Jr. officially completed his prison sentence Friday, nearly three years after pleading guilty to illegally spending $750,000 in campaign money on everything from fur capes and vacations to Hollywood memorabilia and a gold-plated watch.
The Illinois Democrat, who had been on home confinement in Washington in recent months, was officially registered as free from custody Friday afternoon, U.S. Bureau of Prisons spokesman Edmond Ross said. His release means his wife must soon start serving her year-long prison term in connection to the case.
His father, civil rights leader Rev. Jesse Jackson, said he was happy his son's prison term had been completed.
"It's a cause for celebration," the elder Jackson said in a telephone interview Friday evening. He said his son had dutifully served his time and "deserves redemption and renewal."
Jesse Jackson Jr. served in Congress from 1995 until he resigned in November 2012, ending a once-promising political career. He left Congress that June, and his staff eventually confirmed he took a medical leave for treatment of bipolar disorder and other issues. He pleaded guilty to one felony fraud count in February of 2013.
The 50-year-old was sentenced to 2 ½ years in prison. But with credit for good behavior and completing a substance-abuse program, he spent a year and a half in prison, then three months in a halfway house and three months confined to his home.
"He signs a release, has the ankle bracelet removed, is wished well and then he leaves," Ross said about the process.
Jackson's wife, Sandi, a former Chicago city councilwoman, was sentenced to a year in prison on a tax conviction related to the case. In a concession to the couple's two school-aged children, the judge allowed the Jacksons to stagger their sentences.
The items they spent campaign money on included mounted elk heads, as well as Bruce Lee and Michael Jackson memorabilia, according to court filings. The gold Rolex watch Jackson bought was valued at $43,350.
Jesse Jackson must still serve three years of supervised release and complete 500 hours of community service performing tasks "to benefit disadvantaged individuals," the judge said at his sentencing.
Jackson's calculated release date was Sunday. But it's policy to let those with weekend release dates go free on Fridays.