Jonathan Toews to play last game with Blackhawks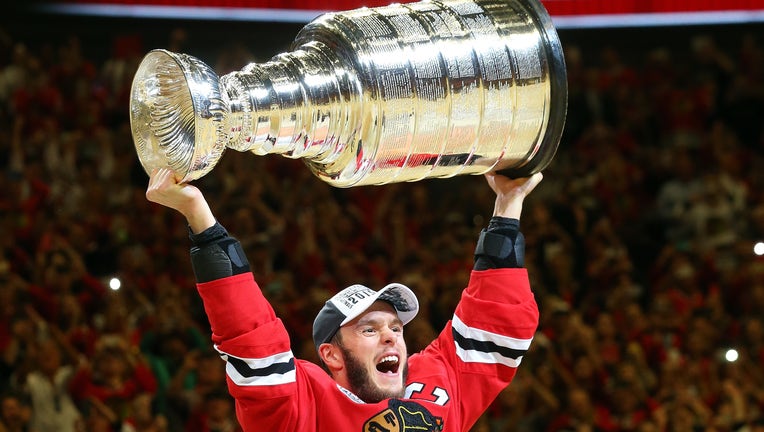 article
CHICAGO - Jonathan Toews will suit up as a Chicago Blackhawk for the final time Thursday night, ending a wildly successful run that included three Stanley Cup championships in 15 seasons.
The 34-year-old center will not be re-signed by the organization this offseason, the team informed him this week.
"I've had a number of conversations with Jonathan throughout the season about his future with the Blackhawks, and recently, we had the difficult conversation that we won't be re-signing him this offseason. Tonight will be his final game as a Blackhawk, and it was very important to us to be able to provide the proper send off for Jonathan and our fans," Blakchawks GM Kyle Davidson said in a statement.
The Blackhawks' final game is at 7:30 p.m. against the Philadelphia Flyers at the United Center.
Toews, the Blackhawks' first-round draft pick (third overall) in 2006, joined the team in 2007 and was a pillar of Stanley Cup championship clubs in 2010, 2013 and 2015.
SUBSCRIBE TO FOX 32 ON YOUTUBE
At the peak of his career, he was one of the NHL's top two-way centers, winning the Selke Trophy as the league's top defensive forward in 2013.
In 1,066 regular-season games, Toews has 371 goals and 511 assists. In 139 playoff games, he's posted 45 goals and 74 assists, and he won the Conn Smythe Trophy as playoff MVP in 2010.
Toews missed the entire 2020-21 season with Chronic Immune Response System, which caused debilitating inflammation and fatigue.
He appeared in 71 games in 2021-22, then started this season with renewed energy before slowing and eventually shutting himself down.
Toews' eight-year, $84 million contract is set to expire at the end of the season.
"He has done so much for this organization and no matter where he plays next, we're excited our fans get the chance to show Jonathan exactly how much he means to them," Davidson said.
Toews' departure comes in the wake of a February trade that shipped star forward Patrick Kane to the New York Rangers.
"I don't know if it's necessarily putting the past behind us. It's moreso clearing the deck to some extent to allow the organic growth for young players into leadership roles," Davidson said. "Offer this new era of Blackhawks player the same opportunity that Toews, Kane, (Duncan) Keith, (Brent) Seabrook, they were all offered when they came in the league."
Toews could decide to retire after missing a chunk of this season with what he described as symptoms of long COVID-19 and chronic immune response syndrome. He also missed the 2020-21 season because of those same health issues.
"I don't really have an answer right now," he said on Monday. "I'm just trying to enjoy the last few days of the season here with this group and not thinking that far ahead." 
The Associated Press contributed to this report.