Keef concert organizer slams Pfleger as 'caterwauling clergyman'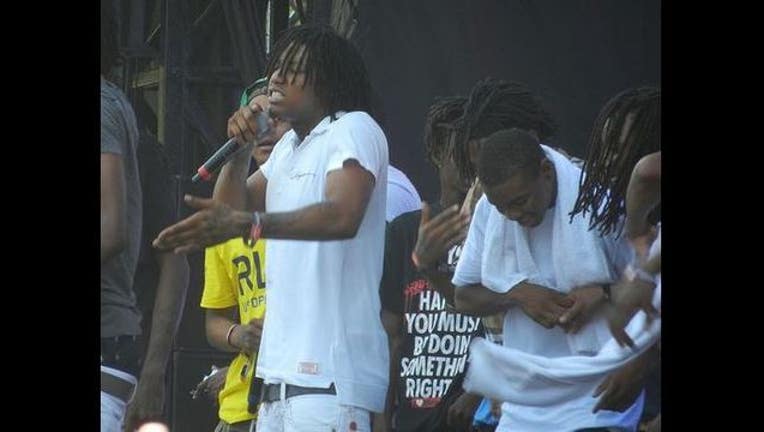 article
A day after rapper Chief Keef's planned appearance via hologram at a Pilsen theater was canceled, the company behind the event announced it had been merely 'postponed,' the Sun-Times is reporting.
Alki David, CEO of FilmOn Networks and Hologram USA, also criticized Rev. Michael Pfleger, whose Facebook page urged Keef to "Shut up!!!!!" when word of the concert first spread.
"The meddling, attention seeking Father Pfleger, who bullied the owner of the downtown theater to back out of his contract, will not succeed. He is exploiting this tragedy and taking money away from the victims and solid charities who are doing good work in Chicago," David said in a written statement.
"Chief Keef is 19 years old and a loving father. His example of new maturity, redemption, and wanting to give back can influence young people on the South Side like no caterwauling clergyman can. We will bring Keef's message of peace to the streets."
Friday morning, Rev. Pfleger called David's comments "bizarre" and "absolutely ridiculous."
"That the president of a company, on behalf of Chief Keef, would put out a statement that is entirely a lie — are you crazy?" Pfleger told the Chicago Sun-Times.
Pflger said he's had no dealings whatsoever with whomever runs the theater where the Keef charity show had been planned.
"I've had no conversation with them at all," Pfleger said.
As for being called a "caterwauling clergyman," the South Side pastor said: "I don't even know what this is. I'll have to go the dictionary."
The benefit concert had been planned for Friday. Keef was to appear via hologram at Redmoon Theater in the Pilsen neighborhood.
In an emailed statement on Thursday explaining that the concert would not be taking place at Redmoon, Debbie Saul, Redmoon's director of marketing, said the theater "did not understand the full nature of the event."
Keef, whose real name is Keith Cozart, decided to put on the hologram show after hearing about a South Side shooting and car chase that led to the deaths of Keef's friend Marvin Carr, known as rapper Capo, and 13-month-old Dillan Harris. The toddler was in a stroller when it was struck by a car that fled the scene of the fatal shooting. Keef "wants to speak out against all the violence," said Owen Phillips, a spokesman for David, the Greek billionaire owner of HologramUSA and FilmOn, who recently signed the rapper and is orchestrating the show.
Phillips said Chief Keef can't physically be in Chicago to perform because of an outstanding warrant. The warrant against Chief Keef, who grew up in Englewood and has a history of gun and drug charges, stems from allegations that he hasn't paid child support, according to a spokeswoman for the Cook Country Sheriff's Department.
Money collected at the concert was to be donated to Chicago charities and the victims' families. Keef and FilmOn's owner were to match the proceeds.
But when word of the concert spread, Pfleger — an outspoken anti-violence advocate and pastor of St. Sabina Church in the neighborhood where Keef grew up — criticized Keef for not being genuine.