Lake County state's attorney's office adopts second comfort dog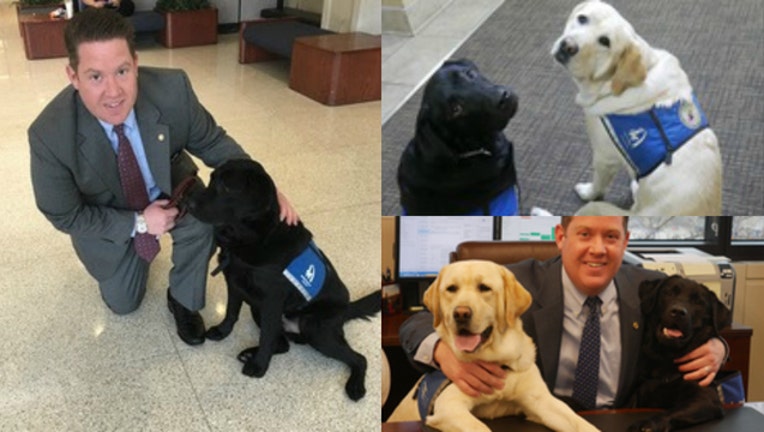 article
WAUKEGAN (STMW) - The Lake County state's attorney's office announced a new arrival at the courts Monday, but he's not charged with a crime–he's a comfort dog.
Hitch, a nearly 2-year-old black Labrador retriever, arrived at the state's attorney's office in Waukegan on March 21, according to prosecutors. He joins Mitchell, a yellow Labrador adopted by the state's attorney's office in April 2015.
Hitch was donated by Support Dogs Inc., a national not-for-profit organization. He went through extensive training, including a program at the Southwestern Illinois Correctional Center where he was trained by inmates.
"Our first comfort dog, Mitchell, has been such a huge success that I decided we should apply for a second dog," State's Attorney Michael Nerheim said in a statement.
"Mitchell will be used at our Children's Advocacy Center, where his primary role will be to work with child victims of sexual and physical abuse," Nerheim said.
Hitch is assigned to the Nineteenth Judicial Circuit's Therapeutic Intensive Monitoring program, which includes mental health, drug and veterans courts.
He will be available throughout the courthouse to serve as a comfort for those who enter the criminal justice system because of mental illness, traumatic circumstances or addiction.
The veterinary maintenance, grooming and nutrition services for the dogs have been donated by Dr. Ned Bartlett at Harbor Animal Hospital; All Tails Pet Grooming in Zion, Grayslake Animal Hospital, Tops Grooming, and Purina.