13-year-old with criminal history arrested after shooting Lakeland officer in the foot, officials say
LAKELAND, Fla. - Polk County investigators identified the 13-year-old who fired a round at a Lakeland officer, striking him in the foot. Other officers shoot at the teen, sending him to the hospital.
During a press conference Thursday, Sheriff Grady Judd also named a 14-year-old and 19-year-old Jermaine Julian, saying they were with the youngest suspect, 13-year-old Wesley Dalmas, and tried to flee from police. Investigators said Julian is in a gang, while the Dalmas and Speight are "gang affiliated."
The sheriff firmly pointed out that age doesn't matter in the scenario that played out in Lakeland on Wednesday evening.
"I don't care that chronologically they are 14, 13, or 19. They were looking for someone to kill. I am sick to my stomach of them going, 'Oh, did you know his age?' It doesn't make a difference," he said. "If you're old enough to hold a gun and point it at a cop and pull the trigger, you're old enough to be shot or to go to jail."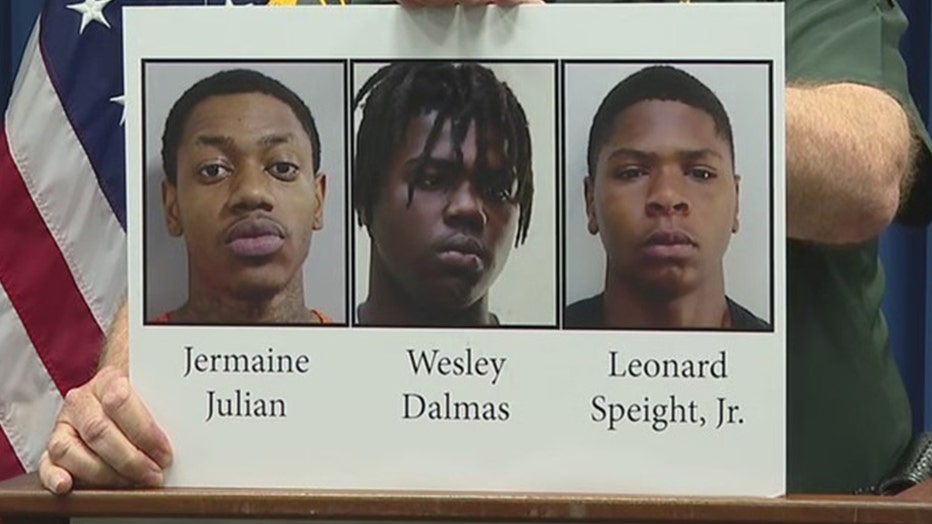 Sheriff Judd also scolded gun owners who leave their weapons in unlocked vehicles.
"They're burglars. They're shooting up neighborhoods and shooting officers with your gun because you're not responsible," he stated. "They'll also shoot you with your gun that they take out of your car if they get a chance."
Officer Jamie Smith is continuing to recover at the hospital and is expected to be released Thursday.
Officials with the Lakeland Police Department and Polk County Sheriff's Office swarmed Lincoln Avenue Wednesday afternoon, but investigators said it all started with a shooting a few blocks away from Simpson Park.
Sheriff Judd and Lakeland Police Chief Sam Taylor said Officer Jamie Smith heard a shot fired while he was investigating a separate call in the area at around 5:15 p.m. Officers believe the trio of suspects was involved and searching for an "opp."
"What's an opp? An opportunity to shoot a competition," the sheriff said, describing gang-related conflict. However, investigators are not certain who or what was the intended target. No individual has made a report as of Thursday.
Officer Smith was able to find and pursue the suspect's vehicle, a Dodge Avenger, and tried to stop it. 
READ: Polk deputies: Mulberry driver who caused double-fatal crash was illegally in the U.S.
The vehicle didn't stop after the officers' attempts, but Chief Taylor said the chase eventually ended on 10th Street, near an apartment complex. 
The officer saw one of the three people inside the vehicle – later identified as Dalmas – was carrying a handgun, and began pursuing him on foot, officials said. Smith commanded the suspect to drop the gun, but he didn't.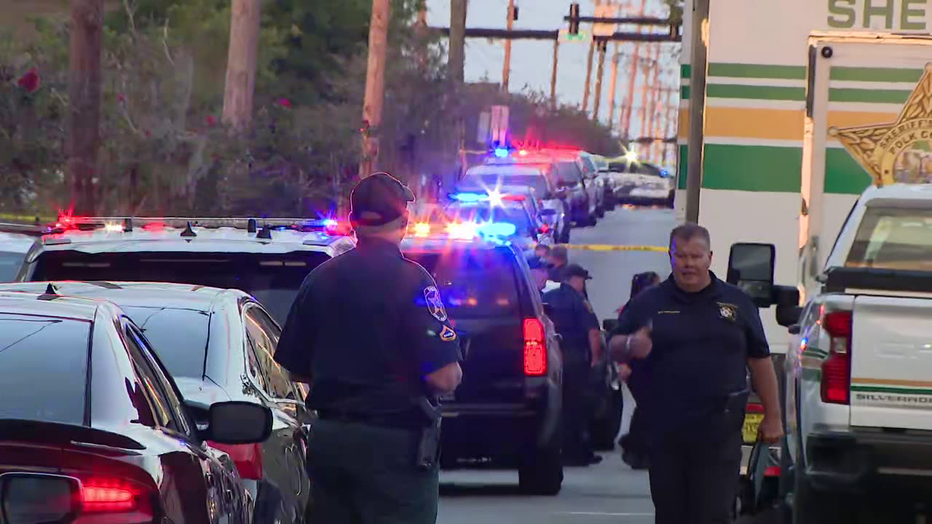 Pictured: Scene of officer-involved shooting on Lincoln Avenue in Lakeland.
According to police, that's when the teen rounded the corner of the Carrington Place Apartment building and crouched down – waiting for the officer. Once Smith was near, the suspect fired at least one shot, striking him in the foot. 
MORE: 1 shot after fight escalates in Land O' Lakes parking lot, deputies say
Despite being shot in the foot, Smith continued to pursue the suspect and eventually lost sight of him, according to Chief Taylor. More officers arrived at the complex, passing by bushes that are close to the building where the suspect was hiding. 
That's when the Dalmas jumped out of the bushes and began fleeing and engaging in another "gun battle" with officers, the Lakeland police chief said. The teen was shot several times by officers.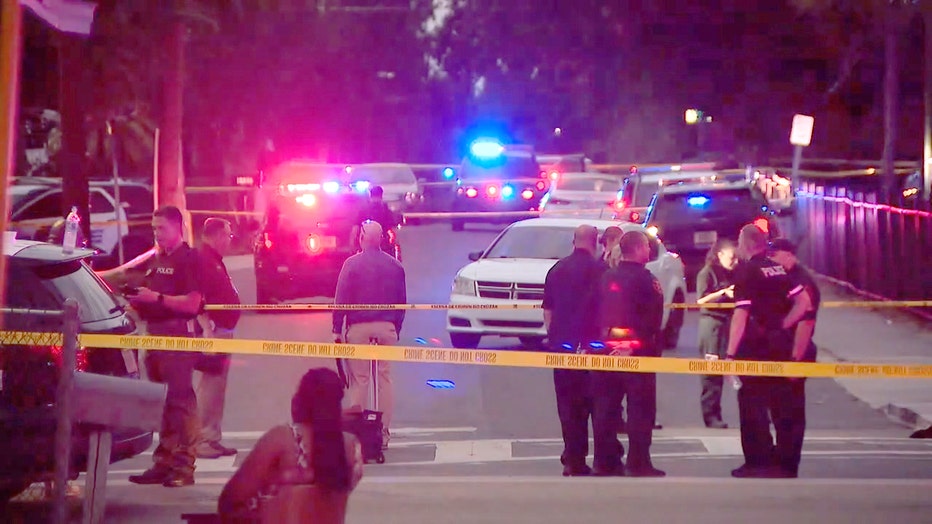 The officers began rendering aid once he was down, and the 13-year-old suspect was transported to Tampa General Hospital with non-life-threatening injuries. Chief Tayler said he was shot in the leg.
Smith was found by other officers and was taken in the back of a patrol car to Lakeland Regional Medical for treatment. 
"I can't be more complementary with how he reacted," Chief Taylor said during Thursday's press conference. "He had the opportunity after he was shot to pull back and set up a perimeter and let the guy go…he chose not to do that. He chose to press on and continue. What Officer Smith did last night was nothing short of heroic. His condition is good."
The police chief also added that the officer may need a new pair of boots, and offered to purchase it.
Sheriff Judd said this isn't the first time the 13-year-old has been in trouble with law enforcement. Not only does the teen have a criminal history, but the sheriff said he was arrested back in January for carrying a stolen gun during a burglary. Speight was also with him.
PREVIOUS: 'We are not guilty': Members of St. Pete Uhuru Movement address federal charges filed against them
He was charged with multiple felonies and given probation for that incident. The sheriff noted that Speight and Julian were also on probation at the time of Wednesday's shooting. A second handgun was found in the suspects' vehicle.
"We don't want him on the streets," the Polk sheriff said. "It's just a matter of time until he hits someone, and just by the grace of God, he didn't hit anyone with the drive-by this afternoon. But this is serious business. He entered into adult criminal activity, and we're going to treat him like an adult, doing violent, felonious criminal activity."
Investigators are now combing footage from the apartment complex and said the investigation remains active. They did say at least one of the other two suspects inside the car was taken into custody. 
"There's room in the jail for all of you who want to shoot," Sheriff Judd said.
The sheriff did say that they will take the lead on the investigation for the officer-involved shooting. Multiple Polk County law enforcement agencies will assist in the investigation as part of the State Attorney's Incident Task Force. 
Officer Smith has been with the Lakeland Police Department for less than two years, according to Chief Taylor. He was one of the New York Police Department officers the agency recruited back in 2021.