Louisiana pizzeria offers free pizza for a year in exchange for Taylor Swift tickets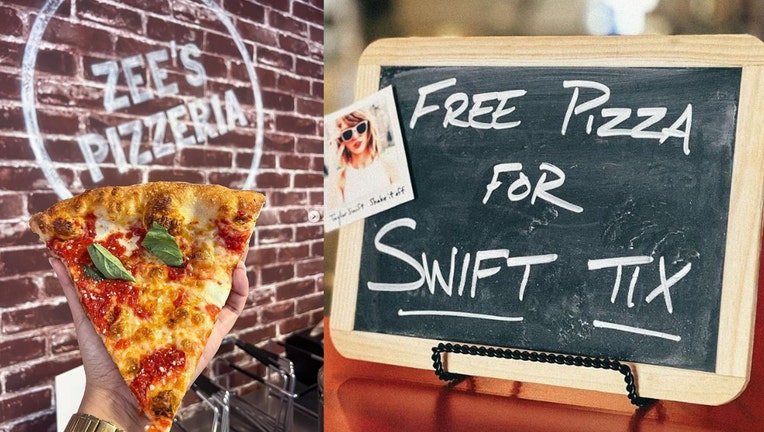 article
NEW ORLEANS - Like many Taylor Swift fans, the owners of a pizzeria in Louisiana were unsuccessful in securing tickets to the singer's The Eras Tour – so they came up with a clever idea to possibly score seats. 
Zee's Pizzeria, a family-owned shop in New Orleans, is offering free pizza for a year in exchange for two concert tickets. Owner Zander White told FOX Television Stations that he, his wife Ciera, and their 4-year-old son Asher "are all huge Taylor fans" but weren't able to get tickets.
Swift's 52-date Eras Tour prompted a major system meltdown of Ticketmaster sales in November, causing outrage, heartache and even lawsuits by fans over the fruitless hours spent trying for seats. The ticketing issues also prompted a Justice Department investigation and congressional hearing. 
Registered fans given codes for a pre-sale tried to secure tickets for the tour, but were quickly met with long delays and error messages that Ticketmaster blamed on bots and historically unprecedented demand. Swift later vented anger and frustration in a statement, saying she had been assured by Ticketmaster that they could handle the demand. 
Ticketmaster said more than 2 million tickets were sold despite the troubles, setting a new single-day record for artists on the platform. But still, many "Swifties" were left ticketless for the tour, which kicked off last month in Arizona and runs through August. 
RELATED: Taylor Swift speaks out after injuring herself during Eras Tour: 'It was my fault completely'
Tickets to The Eras Tour on Vivid Seats currently average around $1,700, according to the ticket exchange and resale platform. On SeatGeek, another resale website, tickets begin around $750 to $800 each. StubHub appears to have a similarly high starting price. 
For fans like White, the high price didn't seem doable. 
"We tried to get tickets, and were unsuccessful," White explained. "Now tickets are just too expensive, and she's not playing in New Orleans, so combined with flights and hotel we just cannot afford it."
Zee's Pizzeria got its start during the pandemic after White's film industry job was put on hold. An avid pizza maker at home, the family first opened a pop-up restaurant on a trailer at a local brewery, and two years later, opened the shop location in July 2022 – serving Northeast-style slices, whole pies, salads and more. 
In November, after the ticket fiasco, Zee's Pizzeria displayed a "Free Pizza for Swift Tix" chalkboard sign on the register counter. 
"I must admit when I made the chalkboard sign it was in jest, as I didn't think it would actually happen," White said. "The sign was more just a cute way of showing our love for Tay during her insane new tour." 
But the offer is real, and it still stands. White said anyone who will give them two tickets – "or three, and we can bring Asher too" – will receive a year's worth of any pizza they choose. The restaurant would likely cap it at one pie per day if the individual is "that regular," White said.
Whole pies run from $17 to $25 at the shop. 
So far, they've had a few single ticket offers, but are still waiting for someone looking to offload two (or more) tickets. 
"In the end we just want Taylor to keep doing her thing," White said. "She's the best."
This story was reported from Cincinnati.