Mom claims Hatchimals bath bomb gave daughter chemical burns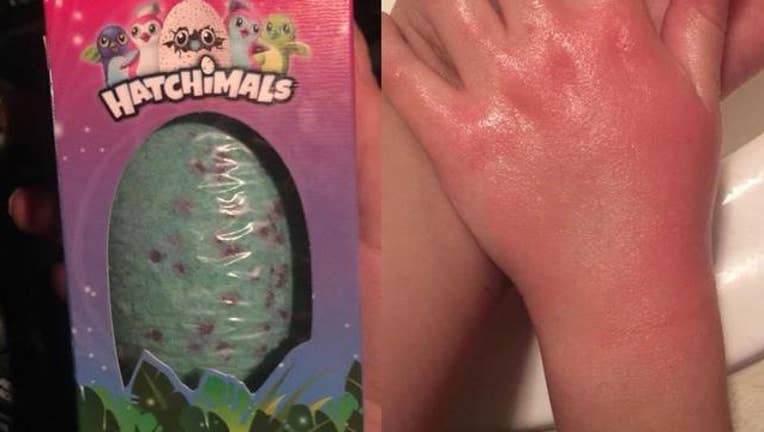 article
(FoxNews.com) - A mother is sounding the alarm over one of the season's hottest toys after she claims it left her daughter with chemical burns. In a Facebook post that has been shared more than 130,000 times, a woman identified as Jennifer Renee shared that she purchased a "Hatchimals" bath bomb for her daughter.
"PSA! Do NOT buy this for your children!" she wrote on Dec. 7. "Followed directions on package and placed in her bathtub. Thought it would be fun for her because there was a toy inside. After being in the water 30-45 seconds she stated her skin was hurting, upon looking she has received a chemical burn from a KIDS BATH BOMB."
Jennifer claimed that her daughter, who was not identified in the post, was not holding the bath bomb and has used several others without suffering any adverse reactions. Jennifer alleges that she called the company and that the batch number is "being investigated and is likely going to be recalled as numerous reports have been made (not all the burning reaction she got)."
The post has received more than 13,000 reactions, but as of Friday the products were still available for purchase on multiple retailer websites.
The toy's parent company, Spin Master, said it was made aware of the incident via Facebook and are "in the process of looking into the matter with the licensee company to whom Spin Master licensed the Hatchimals brand," Allure reported.
"We are saddened to learn about a young girl's injuries," the statement said. "That said, it would be premature to comment further on the situation until we learn more. We are working closely with the product's licensee manufacturer and distributor to determine whether there are any product issues." 
More on FoxNews.com.