Morton Grove shelter rescues horrifically burned cat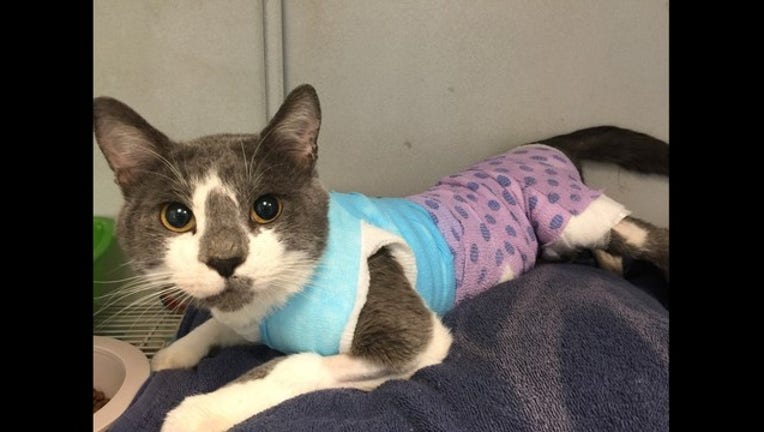 article
MORTON GROVE, Ill. (Sun Times Media Wire) -  When the staff at a Morton Grove animal shelter received Milo's picture five weeks ago, they didn't know if he would live or die. But they knew they had to act fast.
More than 40 percent of the gray and white house cat's skin had been burned off and destroyed by the time an animal control facility in Jonesboro, Arkansas, took him in. They think someone poured boiling water on the cat, who was in terrible pain.
"When they sent over his pictures, we were absolutely horrified to see them," said Christy Anderson, founder and executive director of Wright-Way Rescue. "They didn't want to euthanize him, but they didn't have the resources to properly care for him."
Wright-Way Rescue specializes in finding adoptable animals at rural facilities throughout the Midwest where they might otherwise be put down, Anderson said. Milo stood out immediately among the hundreds of requests for help they receive every week.
Staffers drove for hours to pick up Milo and bring him back for treatment.
"When he saw the Wright-Way Rescue team arrive, Milo lifted up his little head and purred," Anderson said.
Milo has been recovering at Wright-Way ever since. He underwent surgery Tuesday to removed the damaged skin. His prognosis is good, but he will need at least three to four months in the hospital to recover.
Despite his ordeal, Anderson said, the cat has quickly won over the hearts of staff and volunteers.
"He is so sweet, and he's purring and rubbing up against us. We couldn't believe how friendly he was even after being in the amount of pain he's in," Anderson said.
The shelter does not know anything about where he came from or who harmed him. But Milo may still find a happy ending.
"He's doing well and his spirits are up, and our vet is very hopeful that we will eventually be able to find him a home," Anderson said.
Wright-Way Rescue is accepting donations to help pay for his care, which includes frequent blood tests, twice daily exams and cleanings. The shelter also hopes to obtain a special treatment that will encourage skin growth over his open wound.
"The medical resources he will require are pretty extraordinary," Anderson said. "But he deserves it. He's an extraordinary cat."