Massive apartment fire destroys Twisted Hippo Brewery, gym on Chicago's Northwest Side
CHICAGO - A man was hospitalized as Chicago firefighters battled a multi-alarm blaze early Monday in the Irving Park neighborhood on the Northwest Side.
The fire began around 3:30 a.m. in the 4300 block of North Richmond Street and swept through an apartment building and two commercial businesses.
Monday evening, Chicago fire officials said the fire appears to have started between the residential and commercial buildings underneath one of the staircases in the gangway. Officials added: "This fire most probably was external in origin."
Earlier Monday, a 60-year-old man who lived in the apartment building was taken to Swedish Covenant Hospital where he was listed in serious condition, fire officials said.
Several other tenants were evacuated from the buildings, police said.
"And then this wall collapsed probably 45 minutes later and crushed all the cars parked there," said Brian Pudil, who lives across the street.
Pudil described the flames being so intense that his apartment window began to crack from the heat and pressure.
At least nine households were affected by the fire. The American Red Cross is assisting those displaced families.
Meanwhile, Twisted Hippo Taproom and Eatery was gutted. A portion of the building collapsed and there were several explosions likely from flames reaching CO2 nitrogen tanks used for brewing, one of the business's co-owners Marilee Rutherford said.
"It's a little unreal. It's hard. It's going to be hard but we're lucky to have had it and we will see how we move forward," Rutherford said.
CFD Deputy District Chief John Giordano said the brewery had a truss roof that was burning stubbornly.
"It's hard to see everything you worked for go up in flames, but I'm just glad my staff and everyone is okay," Rutherford said.
Even though fire officials on the scene could not say how the fire started, attention focused on Gary Carlson, who has a history of code violations at the dozens of properties he owns in the area.
Public records show he was under city orders to fix electrical problems at the building in the 4300 block of North Richmond Street. Displaced residents complained about trash and rowdy neighbors. A state legislator said he had a "bad feeling" about the building.
But the landlord told the Sun-Times he is being falsely accused. Carlson claimed a witness saw the brewery, Twisted Hippo, burning before the fire spread across an alley to all four floors of his apartment building.
"It's all about a landlord being guilty until they prove themselves innocent, right?" Carlson said. "As a landlord in the city of Chicago, guilty until you prove yourself innocent instead of the opposite way around. Thou shalt not bear false witness against your neighbor."
Carlson said he got a message from the daughter of a tenant saying "she saw the Hippo, Hippo whatever it is, burning. And then the fire spread to my building, not the other way around. That's it."
He added that the brewery "had the highly flammable materials in there. I don't blame anybody. But why are they blaming me?"
Rutherford could not be reached about Carlson's comments.
Twisted Hippo opened in January of 2019 at a site where three other breweries had opened and quickly closed. At the time, Rutherford said she was aware of the failed ventures but added, "I also know the neighborhood is hungry for something wonderful here."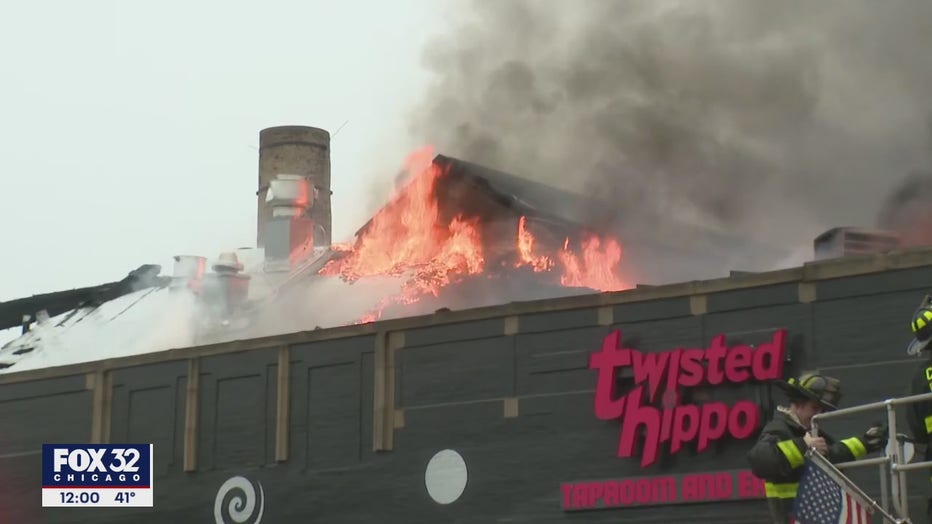 By the afternoon, an online fundraising effort had collected more than $64,000 to cover Rutherford's costs from the fire.
"All funds raised will assist their staff, business, & with any recovery needs," the fundraising post said. "The Chicago Beer family is a tight one, let's show them that we are here for them!"
Carlson said he was told the city may order his building torn down, though to him it looked like it was "perfectly salvageable."
He said he was thankful that nobody was hurt and sorry that families were suddenly left homeless. Carlson insisted that he always responded to any issues tenants and neighbors brought to his attention.
"There is absolutely no appreciation factor for landlords," he said. We're all money-grubbing ass—to put off all their maintenance, take the money and run. And nothing can be the further from the truth."
Flames also devoured Ultimate Ninjas Chicago, a gym and neighborhood activity center for kids.
Courtesy of the Chicago Fire Department
Sun-Times Media Wire contributed to this report.